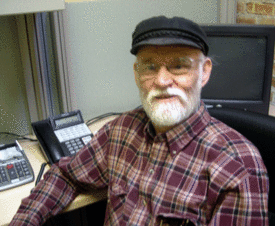 CHICAGO – Pledges to support this working-class newspaper are starting to come in. Volunteers are calling and visiting subscribers during these first weeks of May to talk about this reader-run newspaper, its expansion online and what financial support can be pledged.
This last month, PWW reporters have been writing daily for the website, www.pww.org. Readership online has increased 50 percent to around 3,000 visitors per day.
This newspaper gets no corporate or government funding. We are 100 percent financed through donations from readers and supporters of labor and left/progressive politics. Advertising is also 100 percent reader-powered.
Each year we are thankful for the many subscribers donate regularly to the People's Weekly World/Nuestro Mundo. This year we are asking those who haven't donated to consider making a pledge — $10, $25 or more per month – which can be charged to your credit card. For subscribers who have donated before, volunteers are asking you to consider increasing your regular pledge.
One longtime subscriber here pledged his "stimulus" check to the PWW. Retired worker Bill Mackovich, who regularly brings the paper to other workers he meets either in his neighborhood or at his favorite hang outs and writes on various topics from the environment to economics, walked into my office and said, "You know people my age are getting $250 check. You know what I'm doing with mine? I'm giving it to this newspaper."
Mackovich said the $250 going to retirees wouldn't do much for the current economy. "I don't think Obama really wanted this kind of stimulus, I think he wanted most of the stimulus money to go for infrastructure and job creation." So, he said, "I want to support the only paper that speaks for the working class. I want workers to run this society. Those who produce the wealth should gain the most from it."
Then Mackovich appealed to the readers of the PWW, "If you are getting one of these checks, it will not stimulate the economy. So give it to your favorite newspaper that wants to change the economy!"
Readers who want to follow Mac's example can make a pledge and donate in three easy ways:
Online via PayPal:
Direct credit card payment: (646) 437-5355
By check or money order: People's Weekly World, 235 W. 23rd St., New York, NY 10011.///