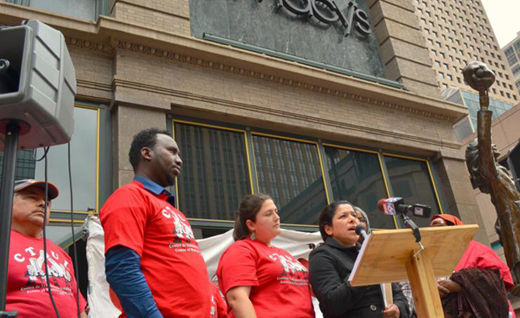 MINNEAPOLIS (PAI) – Janitors who clean big-box and department stores in the Twin Cities announced two key developments in their campaign for better wages and working conditions: Setting a new strike deadline and filing a class-action lawsuit to recoup wages allegedly lost to wage theft.
Members of the Twin Cities worker center CTUL, Centro de Trabajadores Unidos en la Lucha/Center of Workers United in Struggle, took legal action in Hennepin County against cleaning contractor Capital Building Services Group. They allege that janitors who clean Macy's and Herberger's stores were paid less than minimum wage and did not receive overtime pay, among other offenses. They also set a new strike date of June 9.
The two retailers hire Capital, which in turn hires the workers. That gives the retail giants "deniability" about the wages and working conditions of janitors who clean its stores.
Eight current or former Capital employees joined the class action, which could grow to include other workers as the lawsuit advances. Several plaintiffs gathered for a May 20 press conference to announce the suit outside Macy's store on Nicollet Mall in Minneapolis.
Leyla Yusuf, a former Capital employee, said the company did not provide paycheck stubs with information on wages, hours and overtime to its employees. When she suspected she was not being paid in full, she demanded to see a pay stub.
"The reason I got fired is because I asked for my check stub," Yusuf said through a translator. "I spoke up, and I'll never be silenced. We are here to get it right."
The lawsuit comes roughly seven months after CTUL reached a historic agreement with a third big retailer, Target, on a policy to ensure safe conditions, fair wages and basic protections for all workers inside Target's Twin Cities stores – even those workers who toil for other companies, like subcontractors.
Target's influence in the local retail market sparked hope that the policy would have a ripple effect throughout the industry. Instead, workers say the two contractors that service area Target stores, Carlson Building Maintenance and Prestige Maintenance USA, are not abiding by the policy – and it's holding back progress for all cleaning workers as a result.
Maricela Flores and Jose Cabrera, CTUL members who work for Carlson, reported being required to work seven days per week – a violation of Target's Responsible Contractor Policy.
"I don't have enough time to rest," Cabrera said. "I don't have time spend with my family. Although Target created the new policy, we still have not seen necessary changes."
The subcontractors also have failed to respect workers' union rights, CTUL organizer Merle Payne said. "We've had a number of meetings where we've tried" to establish a pathway to organizing, Payne said. "But the companies aren't really meeting in good faith."
Now, CTUL members are giving Carlson, Prestige and six other contractors, including Capital, until June 9 to get serious about those meetings, or else they will call a strike.
Any work stoppage could affect 15 retail chains, including Macy's, Herberger's, Target, Kohl's and Sears.
Short-term, high-visibility strikes are gaining popularity among low-wage workers in the Twin Cities and nationwide as a strategy for putting pressure on employers and attracting more support. If janitors walk off the job June 9, it would mark their fifth strike in the Twin Cities over the last two years.
"It's too long that we've been waiting, too long that our petitions have gone without an answer," Luciano Balbuena, a Kimco Services employee who cleans Home Depot stores, said through a translator. "If we don't get a response, we're going on strike June 9."
Michael Moore, St. Paul Union Advocate
Photo: Workday Minnesota ‏@workdaymn May 26 Retail store cleaners file class action lawsuit, set strike date http://buff.ly/1LqyGl3 @CTUL_TC @unionadvocate