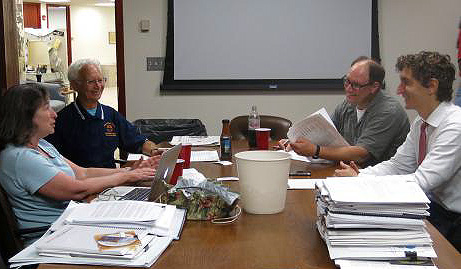 WASHINGTON — Stories about some of the world's most vulnerable children, in Afghanistan and Los Angeles, were among the winners of top prizes in The News Guild's annual Heywood Broun Awards competition.
Rod Nordland of The New York Times received the grand prize, the Heywood Broun Award, for his "Kabul's Killing Freezes" series about how Afghani children, sent to refugee camps when the war shattered their home areas, quickly perished from cold due to no fire, no blankets and no jackets.
The award is named for The News Guild's first president, the crusading columnist who believed in using newspapers to fight injustice and right wrongs.
All the awards will be presented at a TNG ceremony and banquet on Oct. 31.
Nordland told the judges he was moved to tears by what he saw, and they said his visceral response came through in the telling. "The writing was just so exquisite, seemingly effortless with a great human touch," the judges said. From the opening line, "The following children froze to death in Afghanistan in the past three weeks," Nordland offered example after example of preventable human tragedy among kids in the camps.
The Afghan government and the U.S. military looked the other way until the Times series ran, when the paper received thousands of requests from readers asking how they could help, and when the series forced the powers-that-be to pay attention to the problems the refugee children face.
Jason Felch and Kim Christensen of the Los Angeles Times won one of the two Awards of Distinction. They exposed the continuing "Shame of the Boy Scouts," a coverup starting in 1919 of sexual predators within the ranks of scout leaders. The paper also created a database – community by community nationwide – of "perversion files" where the predators operated, or were moved to, by complicit Boy Scout leaders.
The other Award of Distinction went to David Jackson and Gary Marx of the Chicago Tribune, who went behind "a mountain of unruly city statistics" to show patterns of absenteeism in the Chicago Public Schools, including complete disappearance of hundreds of students.
"Jackson and Marx conducted their own analysis of truant and absent pupils from kindergarten to 8th grade. They didn't stop there: They went into neigh­borhoods to inter-view parents and children. Thousands of the youngest students were unaccounted for by the school district. These stories compelled the school administrator to concede these children fell through the cracks in a flawed system," the judges said.
Photo: Heywood Broun award judges, clockwise from left: Chair Deborah Zabarenko of Reuters; Lawrence Margasak, recently retired from The Associated Press; Christopher Assaf, Baltimore Sun video editor; and Pedro da Costa of Reuters.