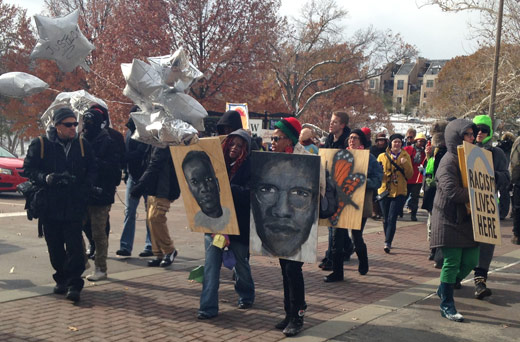 CLAYTON, Mo. – There was a loud and vibrant mix of street theatre and raw activism on Monday, November 17 as more than 50 protestors mobilized in this St. Louis suburb despite freezing cold temperatures.
One making his or her way through the crowd was greeted by colorful signs and banners announcing the arrival and one-day performance of what demonstrators called the "Injustice Freak Show." Their main attraction was "the one and only Darren Wilson," the policeman who shot Michael Brow, who was described as the "amazing disappearing man."
Monday, marked the 101 day since the brutal killing of Brown, an unarmed 18- year-old African American, and a hundred and one days of freedom for Darren Wilson, the police officer who fatally shot him on the morning of August 9.
For the Brown family and for many activists, the wheels of justice continue to grind at a snail's pace. The Grand Jury has yet to announce whether they will charge Officer Wilson for the murder of Michael Brown. This extended delay coupled with the systemic racism found within St. Louis area law enforcement, has added to the general sense of scepticism that protestors have expressed about the justice system – leading many to believe that there will be no indictment.
The march began as a protester dressed as a police officer yelled, "Beware, beware! The protestors are coming!" A group carrying handmade wooden shields displaying the faces of Michael Brown and Malcom X rushed to the front of the march and created a line between law enforcement and the peaceful demonstrators. In doing so, protestors sought to bring attention to the heavy-handed tactics employed by law enforcement over the past two months in Ferguson.
A local activist who asked to remain anonymous, said, "These shields are meant to protect people from pepper spray and to act as a kind of windbreaker. The funny thing is we got these materials for free." She quietly chuckled before continuing, "They were handed out to local businesses to board up their windows in case we decided to riot or something."
As the march pushed on a "fortune-teller" snaked her way throughout the crowd, telling all those who would listen about her vision. I listened closely as she explained that her crystal ball predicted that Darren Wilson would go a free. I cautiously approached about the reasoning behind the performance art at the rally. Her reply, "You know, we have all gotten to a point where if we don't laugh a little bit about all this than we would just end up crying."
Photo: Al Neal | PW