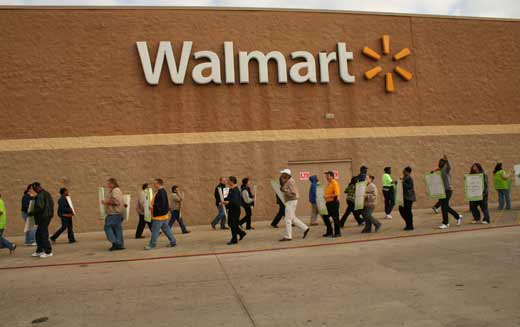 DALLAS – Before dawn on October 9, North Texas Walmart workers had already picketed a store in Ennis, Texas. Those who joined the strike that began in California a few days earlier then met their brothers and sisters in solidarity at the Hampton Inn in DeSoto, just south of Dallas. They were joining nationwide strikes and participating in solidarity activities against the world's largest and, many say, worst, employer.
At the motel, Walmart strikers from all over North Texas joined with supporters. Organizer Kevin Blair explained to them the day's itinerary. They would picket two more stores in the southern sector of Dallas, then their bus would head for Bentonville, Arkansas, to confront corporate investors at Walmart's national headquarters.
The pickets were peaceful, orderly, loud, and very enthusiastic. The group shouted, "Stand Up, Live Better!" – a slight variant of Walmart's TV ad campaign. They shouted, "Hey Hey Ho Ho, Walmart's Greed Has Got to Go!" The signs and chants reflected the central demand for dignity in the workplace. Signs and statements indicated that employees were on an "Unfair Labor Practices" strike as opposed to an economic action. Signs said, "Stop Walmart's Retaliation Against Workers."
Among the picketers were local people who had taken part in organizing activities and then been fired by Walmart. Supporters from at least two other unions came. Police came every time the bus stopped. Television, in English and Spanish, kept pulling people out of the picket lines for interviews.
Everybody sang. Everybody yelled. Everybody marched. The fight is on. It is a nationwide fight, and everybody has a stake in it.
Photo: Jim Lane/PW