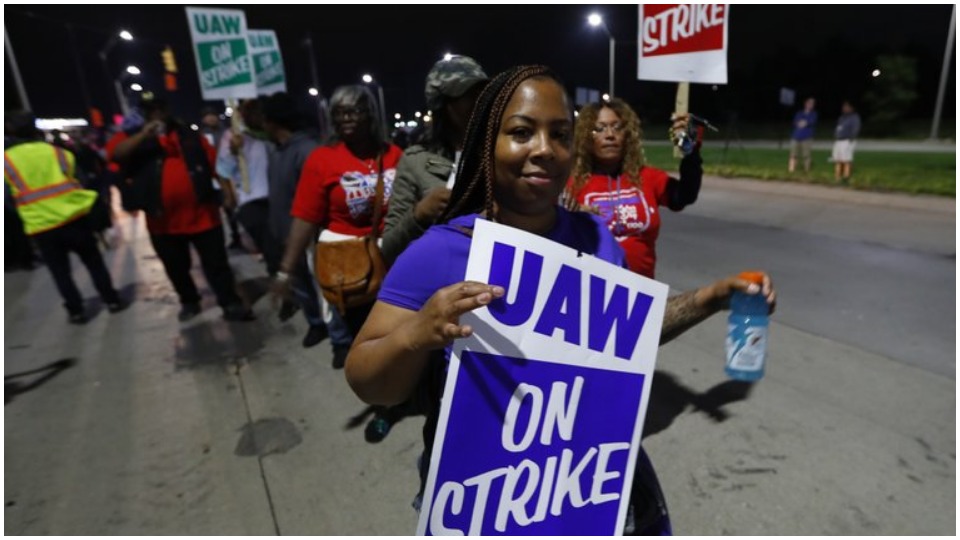 DETROIT—General Motors' intransigence on a new contract that would restore financial hits workers took during and after 2008 Great Recession has forced 49,200 members of the United Auto Workers toiling for the largest Detroit-based car company to strike at 11:59 pm-midnight Eastern Time on Sept. 15.
The old pacts between the Detroit Three—GM, Ford, and FiatChrysler—expired the day before, but the union kept talking, and workers kept working, at the other two car companies.
At GM plants nationwide, they walked off the job at the end of the four-to-midnight shift. GM "refuses to give even an inch" in last-minute weekend bargaining, union spokesman Brian Rothenberg explained.
GM disputed that, saying it offered raises, a signing bonus, and a proposal to reopen—at some unspecified future time—two of the six U.S. auto plants it closed this year, one in Detroit and a partial reopening of another in Lordstown, Ohio. GM shifted their machines and jobs to Mexico to fatten its profits.
The forced strike is the largest private-sector strike in the U.S. in at least a year and comes after near-record profits for the automaker of almost $11 billion last year and triple that over the last three years.
Those profits are part of the problem in bargaining a new four-year contract to cover workers at 31 GM car and truck plants and 22 parts plants and warehouses.
Huge hunks of GM profits have gone into the pockets of GM execs, notably CEO Mary Parra. She walked off with $21.87 million in pay, stock options, and bonuses last year—281 times an average GM worker's pay. The workers, saying they, not honchos, sacrificed, want more to go to them.
As a condition of federal loans and guarantees to keep GM going after it declared bankruptcy due to the financier-caused crash, UAW members at all the car companies suffered deep wage cuts, plus a two-tier wage system and other givebacks. Now, UAW wants to recoup those losses for its members.
"While we are fighting for better wages, affordable quality health care, and job security, GM refuses to put hard-working Americans ahead of their record profits of $35 billion in North America over the last three years. We are united in our efforts to get an agreement our members and their families deserve," said Terry Dittes, UAW's vice president for GM and its bargaining team head.
"GM refuses to give even an inch to help hard-working middle-class families," UAW stated. "Among GM failures, affordable healthcare for thousands remains unsettled for no good reason."
"We stood up for General Motors when they needed us most. Now we are standing together in unity and solidarity for our members, their families, and the communities where we work and live," Dittes added.
The union prepared for the potential strike long before its executive board and local union leaders called for picket lines to go up on the weekend of Sept. 15-16. At their meeting in Detroit Sunday, the local union leaders voted for the strike 175-0.
And at last year's convention in Detroit, UAW raised its strike pay to workers by $75—37.5%—per week. Then-new UAW President Gary Jones openly warned auto worker members to start socking money away.
Besides "fair wages," and especially an end to the two-tier system, the unionists are being forced to strike for "affordable health care, our share of (GM) profits, job security"—a veiled reference to Parra's plans to close production at six plants and move the jobs to Mexico—and "a defined path to permanent seniority for temps," who now suffer that second, lower-wage tier.
UAW's lead GM bargainer, Ted Krumm of Local 652, said the union's GM team clearly told Parra and her honchos what the workers want, and warned them that "we as local unions will sacrifice to stand up for what we deserve.
"Our members have spoken. We have taken action, and this is a decision we did not make lightly. We are committed to a strong contract at GM that recognizes our UAW members, who make some of the greatest products in the world and make GM so profitable.
"Today, I represent tens of thousands of UAW members who are sacrificing their comfort and future to stand up and do what's right," Krumm added.
"I want to be clear about something. This strike is about us, about standing up for fair wages, for affordable quality health care, and for job security. We're standing up for our temporary employee brothers and sisters who do the same work but for less pay. These are profitable times, we worked hard to make this company profitable and we deserve a fair contract because we helped make this company what it is."
In one measure of the workers' power, one analyst at Credit Suisse who spoke to Bloomberg estimated the strike will inflict a financial blow on GM of up to $50 million per day in earnings before interest and taxes.
Interestingly, there are actually two UAW strikes at GM, and one started at midnight on Sept. 14. The 850 UAW-represented janitors at eight of its Michigan and Ohio car plants, who work for a subcontractor, Aramark—yes, the same firm that runs concessions at many major league baseball parks—had to walk. Their contract expired in 2018, and talks have dragged on since with no resolution.
Fair wages, caps on health care benefit payouts, vacation time, and pensions were the key issues.
"We have UAW members who work long, hard hours and are still on public assistance," Gerald Kariem, director of UAW Region 1D, told Associated Press. "It's shameful. Added Region 1 Director Frank Stuglin: "Every day, UAW members go to work and keep these plants profitable. It's astounding that Aramark has not agreed to bargain in good faith over their contributions" to the company.
Interviews with some striking UAW members. | AP