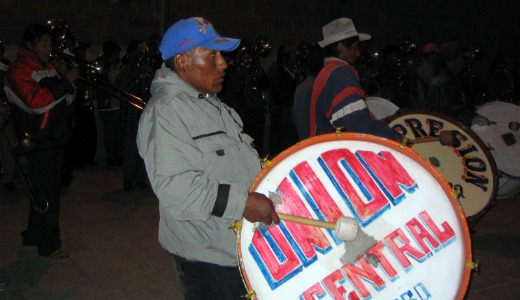 President Evo Morales' socialist government is close to warding off a challenge to its staying power. On April 7, the Bolivian Workers' Central, a labor federation founded in 1953 and a former Morales ally, began a national strike over wages. After 36 hours of resumed negotiations, the action was winding down on as of April 18. Highway blockades, demonstrations around government buildings, and work stoppages by teachers and health workers had been paralyzing the country.
Strikers had demanded a 15 percent wage hike. The government, set on a ten percent increase, secured tentative agreement on a 12 percent raise. Final settlement awaits approval from 55 affiliated unions. The government and the labor federation's leaders had earlier agreed on future legislation aimed at replacing fiscal and market regulations imposed in 1985 under Decree 21060. However, with only 15 percent of Bolivians being salaried, most had little stake in the strike outcome.
The strike highlighted divisions among supporters of the movement led by Morales. Mobilization headed by the region's first indigenous president originated in rural areas, among coca workers, indigenous peoples and women's organizations. To have replaced repressive regimes tied to foreign financial masters with their own government fueled enthusiasm. The government launched programs ensuring access to education, social security for elders, and aid for young mothers. Morales' electoral marjority increased from 53 percent in 2005 to 63 percent in 2009. The President easily fended off a recall referendum. There was a new constitution, oil company revenues approached $1 billion annually, and right-wing separatist plotting had quieted. Yet despite victories, schisms developed.
The 2 million-strong labor federation, which had backed Morales, encompassed unions joined by teachers, health workers, coca farmers, and women's groups. Leaders include salaried miners inured to violent struggle against industry privateers. Their resistance to the government's imposition of a 70 percent gasoline price rise led to retraction in early January. Later, the federation launched one-day general strikes against high food prices.
In the past year, inflation jumped from 2.5 percent to 10.4 percent, the second highest rate in Latin America. In late March, Morales dropped negotiations with Chile over access to a Pacific Ocean port. Turning to the International Court of Justice, he was accused of diverting attention from economic woes.
During the present strike, coca workers' unions and peasant women's organizations gravitated to the government side. With doctors on strike for two weeks, the government assigned publically employed doctors to care for neglected patients. Workers Central affiliated teachers were impervious to government and parental accusations of abandoning schools and children's education. Government negotiators blamed the federation's leaders for making outsized strike demands to protect leadership positions up for vote in May. That was interfering with union independence, the union alliance claimed.
Facing an $880 million budget deficit, the government warned of cuts in social services if departments and cities had to increase wages by 15 percent. Proposals to use foreign currency reserves worth $10 billion were rejected on grounds they were the "nation's patrimony."
During the strike, President Morales alluded to deadly consequences of division: "If the police let demonstrators in [to the Plaza Murillo], they would have dynamited the Legislative Palace, the Palace of Government, and if they found me, they surely would have dynamited me." His reference was to allegations that union miners bring dynamite to demonstrations. The federation does take street work seriously. "Mobilization at a thousand corners was accompanied by a strategy known as 'snake,'" reports one militant. "Groups of protesters station themselves at strategic corners until traffic is blocked off, and then move on. This generates chaos with vehicles on the sidewalks."
Weighing in against some federation leaders leaders, Vice President Alvaro Garcia Linera accused them of "not being ultra-leftists but instead camouflaged ultra-rightists. Dangerous!"
"We have to resist this arrogance and abuse by the leaders," he said, adding that, "The peasant confederations have announced they are going to take reprisals in rural areas." The Vice President prioritizes indigenous nationalism, according to Bolpress.com.
The Bolivian Communist Party, supporting President Morales "process of change" and intent upon bridging gaps, calls for "collective struggle, "particularly workers of field and city alike, together with the parties of the left." The party urges support for non-wage earning consumers, "the most humble and passed over," and condemns "revolutionary adventurism."
Image: Phil Whitehouse // CC BY 2.0