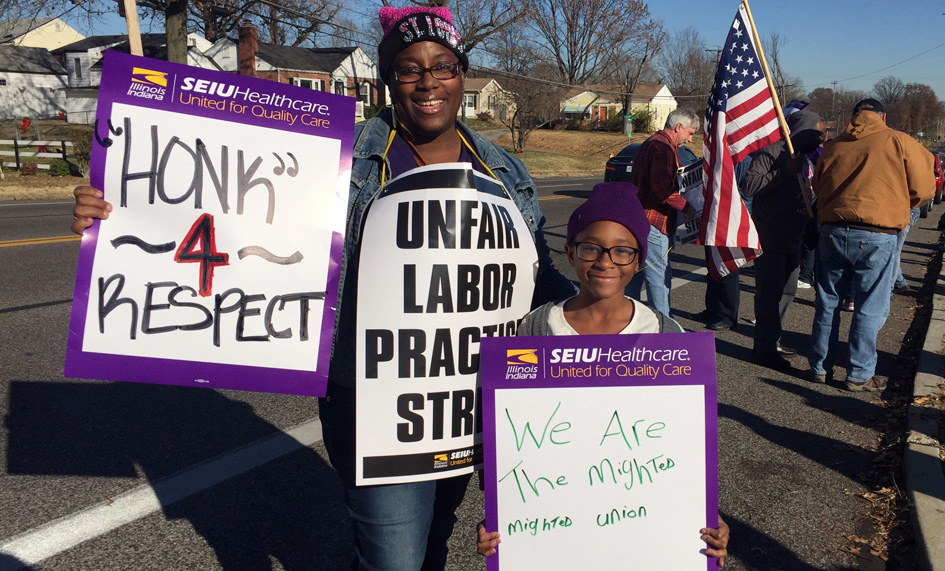 FERGUSON, Mo. — Nursing home workers at the Christian Care Nursing Home here took to the picket line Dec. 1 after contract negotiations broke down the night before.
"We have been dealing with a lot of unfair labor practices with this current administration," said Brenda Davis, a medical aide and certified nursing assistant at the facility. "We were forced to take this measure. It hurts me to even think about leaving our residents."
The 95 direct care workers—housekeepers, dietary technicians, and nursing assistants—represented by SEIU Healthcare Illinois, Indiana, Missouri, Kansas, marched off the job after repeated contract violations by the nursing home administrators.
Medicare inspection reports last year showed Christian Care Nursing Home was found to have 59 deficiencies and was fined $78,000 in March 2016.
"What we were told by Christian Care Home administrators, from the beginning, was that they had an order from HUD telling them to use a management company to oversee the facility," said Lenny Jones, SEIU Missouri/Kansas State Director.
According to Davis, nursing home officials cut back work hours, changed schedules without notice, took back approved vacation, and refused to bargain in good-faith with the union.
"They are disrespecting us, they are trying to bust our union, so we are making a major move to get the respect we deserve," said Davis. "
Union organizer Paula Jones told People's World that management "from the beginning hasn't been taking us seriously. They didn't think for a second we would actually go out on strike…but we did."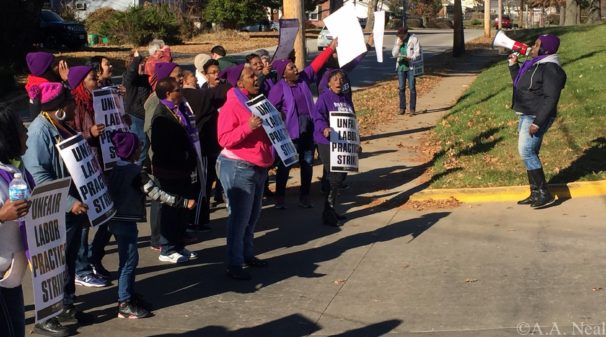 While the strike is rooted in unfair labor practices, union officials explained that there is also an economic component tied in.
"Our last proposal asked for a thirty-five cent increase this year," said Jones. "Then it was a dollar raise in 2019 and 2020, which would bring the grand total to $1.35 over three years."
After refusing to discuss a pay increase for direct care union workers, citing financial hardship, the company gave non-union facility nurses a $2.50 raise during on-going negotiations with the direct care workers' union.
Beautie Jones, a 35-year employee was laid-off after refusing to cancel a vacation last month that had been approved two months in advance. "Then two days before [the vacation], management tells me I can't go because they didn't approve it. I had already paid for my trip, I explained to them, and wasn't going to lose money because they changed their mind two months too late. After I came back is when they started messing with me and took me off the schedule with no explanation."
Overall, the nursing home industry has been under recent pressure, with Reuters reporting last week that "operators are suffering from lower government reimbursements, higher costs, lower occupancy, and increased federal scrutiny over billing, making it difficult for some to cover rent and other payments."
"We come in every morning to give the best care possible to our residents and management doesn't bother to take care of its workers; we can't live like that anymore," said Terry Jacobs, a 14-year dietary worker.
Union members are not sure how long the strike will last, but are committed to "stay out as long as we have to."
Administrators at Christian Care Home did not respond to requests for comment.
CORRECTION: An earlier version of this article incorrectly identified a company as being responsible for management of Christian Care Home. The company previously referenced has no role in overseeing the facility. People's World regrets the error.