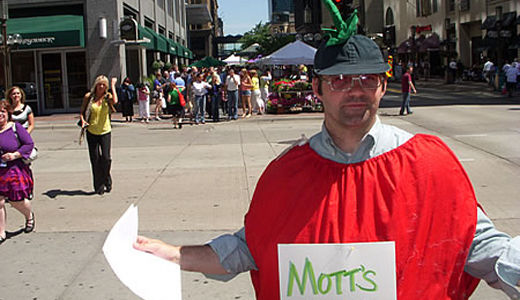 Support from around the country is coming in to 300 striking workers at the Mott's apple products plant in Williamson, N.Y.
Faced with huge cuts in pay and benefits the members of the Retail, Wholesale, Department Store Union/United Food and Commercial Workers at the plant went out on strike May 23.
Mott's parent company, the Dr. Pepper Snapple Group, demanded the givebacks, the union notes, despite earning $550 million in profits last year. The company is demanding a $1.50 per hour wage cut, a freeze on pension benefits for current workers with no pensions for new employees, hikes in health insurance premium co-pays and cuts in company contributions to 401(k) retirement plans.
Dr. Pepper Snapple Group CEO Larry Young doubled his own salary last year to $6.5 million.
The strike has been watched closely by the national AFL-CIO President Richard Trumka, who has urged the Obama Administration to get involved. Trumka sent a letter to Secretary of Labor Hilda Solis, urging her to "call upon corporate America to do its part in helping America's workforce through tough economic times," and to ask Mott's owner to "reach a fair settlement with its workers instead of trying to squeeze workers at a time when the corporate giant is enjoying record profits."
Management has been telling the press that it wants to keep salaries under $14 an hour, which, it says is close to the $30,000 mean salary in the Rochester, N.Y. area. The union notes that with prevailing salary structures in Rochester as they are, half the region's children live in poverty.
"This is about greed and about destroying the middle class," said Michael Leberth, president of the RWDSU's Local 220, which represents the workers.
Strikers are picking up support from many quarters.
Locally, the central labor council has helped kick start an effort by Next Generation United, a group of young trade unionists from the area who are running a food bank for the strikers. Julie Schmidtke, the group's coordinator and OPEIU member, said, "We walk the picketline in support and we gather food and other necessities and bring it to the strikers. We also are calling every young union member and supporter we know to get on Facebook and on all the social networking sites to spread the word to support these workers."
The word, it seems, is spreading.
In Minneapolis on July 1, members of three different unions hit the streets outside of a Target store urging customers to pass over Mott's products until the strike ends.
Those products include applesauce, Hawaiian Punch, Margaritaville, Mr. and Mrs. T's products, Welch's Grape Juice, Rose's lime juice, Snapple, Mott's Fruitsations, Mott's Garden Cocktail. ReaLemon and ReaLime, Holland House and Clamato.
Union leaders say that Mott's is doing what more and more corporations tend to do when joblessness, particularly regional unemployment rates, are high: cutting wages and benefits.
"This is a highly profitable company," said Don Seaquist, president of UFCW Local 789 in St. Paul. "They don't have to do this, they're using the economy as an excuse."
Strikers have picked up support from statewide Democratic candidates in New York.
Sean Coffey, a candidate for attorney general, showed up on the picket line touting his credentials as the son of a union carpenter. Coffey, who has a reputation as a litigator who has taken on some corporations, agreed to petition Dr. Pepper Snapple executives on behalf of the workers.
Nassau County DA Kathleen Rice, a candidate for the same office, also walked the picketline and put pictures of her remarks their on her campaign website.
Rochester Mayor Bob Duffy, running mate for Attorney General Cuomo, who is seeking the governorship, has also come to the picketline and expressed backing for the strikers.
Photo: Attired as a rotten apple, Curtis James Neff participates in July 1 demonstration in downtown Minneapolis. Jennifer Christensen/Workday Minnesota