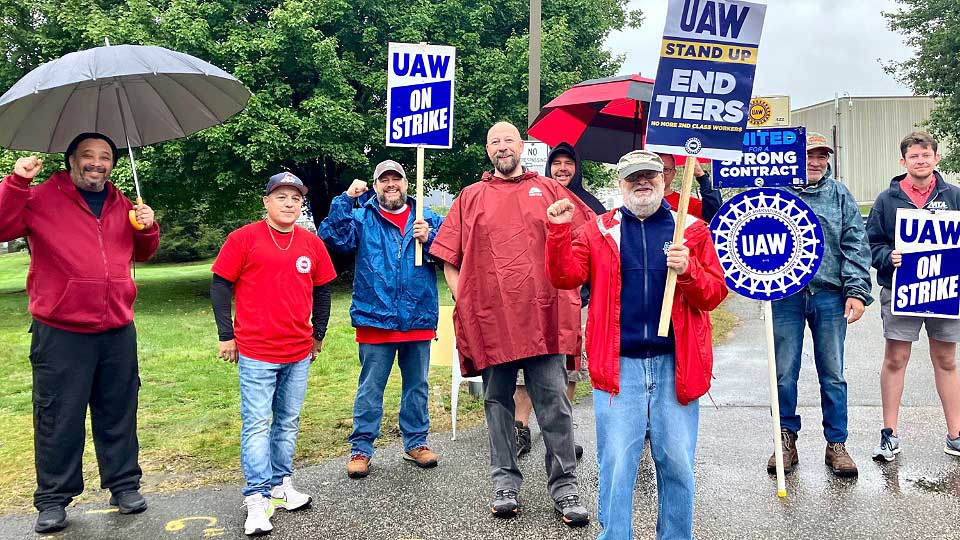 MANSFIELD, Mass.—Members of UAW Local 422 are walking the line 24 hours a day outside the Stellantis parts distribution warehouse in Mansfield, a town 45 minutes south of Boston. Before the strike, they shipped parts all over New England and to upstate New York. Now, just three managers are in the warehouse.
Patrick Lozeau, Financial Secretary for Local 422, has worked at Stellantis for 23 years—since back when it was still Chrysler. When asked what were the main reasons that compelled him to go out on strike, he said simply, "Job security."
Lozeau said that for him, it's about a job with a future for himself and other workers. He believes that the tiered pay system absolutely has to go.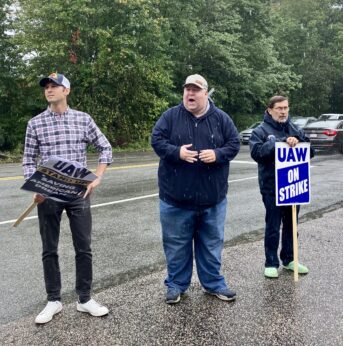 "I've been here 23 years; I'm retiring soon, but the starting rate for workers is only $15.78 an hour. That's not much more than the minimum wage in Massachusetts. Meanwhile, the CEO of Stellantis, Carlos Tavares, gets about $25 million dollars.
"The previous CEO, Michael Manley, was given a $38 million check when he left the position." Even a dead CEO, the head of the previous Fiat Chrysler, Sergio Marchionne, received a check." He died in 2018, but Marchionne's estate is still paid about $29 million per year.
"CEOS are not supposed to make 300 times what the workers make," Lozeau told People's World. "It's worse now than during the Gilded Age. This economy is not set up for you and me. It's set up for those who live in mansions. It's more than just greed. Greedy people want more donuts. These guys today want all of the donuts."
Patrick Connell, a Maintainer, echoed Lozeau's hope for ending the two-tier pay system. When asked what he wants to come out of the union's negotiations with the Big Three, he responded: "That people below me get what I get."
Having worked in the shop for 38 years, Connell has a defined benefit pension and what he considers decent pay. Newer workers, however, have a far less secure retirement plan and earn only half the pay.
"The turnover is very high as a result," he said. "If you want to invest in a company, you have to invest in the workers."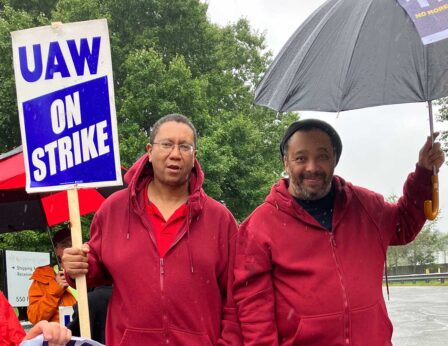 Tyrone Mills, chairman of UAW Local 376 at a Ford plant in Connecticut, came to walk the line in support of his brothers and sisters. "A win for the union is a win for everyone. When you have a pension, you have a career," he said.
There are 45 UAW members at this Stellantis parts warehouse, but they have been joined in their fight by members of the Teachers Association, SEIU, and other unions. UAW members at Legal Aid came all the way from New York City.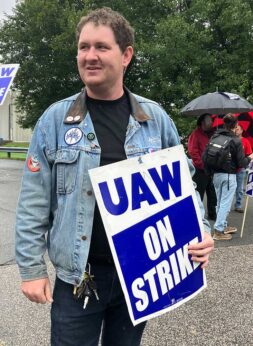 Myles McMann, Lead Carpenter at the North Shore Music Theater, said his workplace was organized just three years ago and had to strike to reach an agreement. He is now an active member of IATSE Local 11 and came to show solidarity with the autoworkers.
Three lawmakers also joined the line on Sunday: Congressman Jake Auchincloss of the Fourth District where the warehouse is located, State Sen. Paul Feeney, and State Rep. Jim Hawkins.
Asked how others can support them, Lozeau replied, "Come walk the line with us. Bring food and water—and bring more people!"
The picket line is at 550 Forbes Blvd., Mansfield, Mass.
Donations can also be made to the Region 9A Strike Fund.
>>> READ MORE PEOPLE'S WORLD COVERAGE OF THE UAW STRIKE.