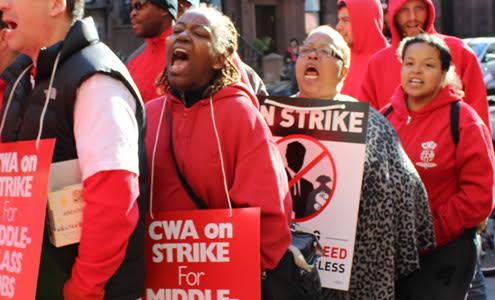 The 39,000 striking Verizon workers, members of the Communications Workers and the Electrical Workers from Maine through Virginia, are introducing a new facet to the worker-boss struggle: The virtual picket line.
As described in a blog on labor law issues, the virtual picket line not only is pioneering in the use of social media for a traditional strike, but it also gives millennials – who use social media more than their elders and who often don't know about unions and their causes – exposure to organized labor and its causes.
But the virtual picket line via Facebook, Instagram, Snapchat, Twitter and other platforms hasn't stopped CWA and IBEW from traditional strategies in their fight against the multibillion-dollar telecom.
The two unions sponsored a "National Day of Action" against Verizon, with rallies from Maine to Los Angeles, on May 5. And CWA, with citizen and consumer group allies, filed a complaint with the Federal Communications Commission charging that Verizon is deliberately short-changing its landline customers.
CWA and IBEW have also mobilized union supporters. For example, Rail Workers United posted a petition for its members to sign and told them not to cross Verizon picket lines.
And West Coast telecom workers – who are in the midst of bargaining themselves-will rally in solidarity in Los Angeles and San Francisco.
Verizon forced the CWA and IBEW members to strike on April 13 after months of fruitless talks for a new contract. The firm refused to negotiate on its demands for maximum flexibility in outsourcing call center jobs from the U.S. to Mexico and the Philippines and for huge health care givebacks.
Verizon's newspaper ads said it moved, a little, on raises, to 7.5 percent. The ads did not say that figure covers five years.
"Unions and other labor-movement actors have effectively used social media before, most visibly in the Fight for $15, but they haven't before had an opportunity to share a traditional work stoppage of this scope," the On Labor blog said. "This strike is the first of its kind to last more than a few days and be liked, shared, and tweeted en masse" in the U.S.
The strike portal, www.standuptoverizon.com, gives picket line sites, e-mail and text updates of bargaining sessions, graphics and other print materials to share and a solidarity petition. Some of the images "are calibrated to be shared via Facebook."
There's also an official Facebook page, and images from the picket line that humanize the strike, tagged for the general public. The Facebook page has 33,000 "likes" and counting.
And workers shared memes capturing their frustration with Verizon.
But CWA is also demanding the FCC investigate Verizon's service, or lack of it, to landline users. "Verizon is engaged in unjust and unreasonable practices with regard to its copper facilities (copper landlines) in violation of section 201(b) of the Communications Act, and is failing to provide advance notice of actions that 'will result in the retirement of copper'" in violation of FCC rules, it says.
"In particular, Verizon has institutionalized the deception of consumers under an established internal policy – the "Fiber is the Only Fix" ("FITOF") policy…under which technicians and other Verizon employees are required actively and purposefully to mislead their customers." CWA wants the agency to order Verizon to investigate, "immediately stop these deceptive practices," give consumers redress and "take any other" appropriate action.
The unions support upgrading Verizon customers from copper to fiber optic service "as long as those efforts are in full compliance" with federal law and FCC rules – and that Verizon is transparent about what it's doing and that it doesn't harm consumers.
Photo: Stand up to Verizon