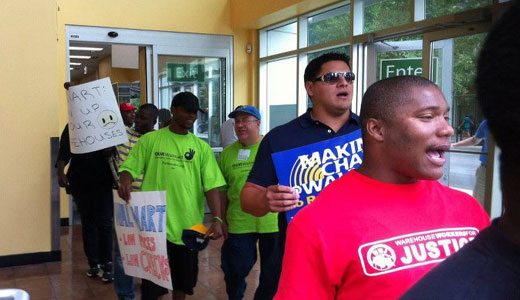 CHICAGO – Some 50 striking workers at a Walmart warehouse in Elwood, Ill. left their picket line this morning, traveled to a newly opened Walmart Express here, marched through the front doors and took over the store for half an hour.
Stunned – but obviously pleased – store workers and supportive customers cheered as the warehouse workers entered the store and marched down the aisles chanting, "One , two, three, four, we're the ones who supply your store – five, six, seven, eight, we're the ones who move your freight."
The workers had walked off the job in Elwood on Sept. 15 to protest wage theft and retaliation against complaining workers by the contractors Walmart uses to run its warehouse.
The walkout followed by two days the filing of a lawsuit by workers against Walmart contractor Roadlink Workforce Solutions for wage theft. It was the sixth such lawsuit filed against a Walmart contractor at the Elwood warehouse.
Since the filing, Phil Bailey, one of the workers listed as a plaintiff, has been fired.
Robert Hines, a warehouse worker and member of Warehouse Workers for Justice, who is helping to organize the protests at Elwood and who participated in the takeover of the Walmart Express here, said Bailey was fired for no reasons other than having "asked about when he would be paid overtime he was owed and for participating in a picket line Saturday."
Leah Fried, a UE organizer working on the strike, said that Warehouse Workers for Justice was going into court in Chicago today to amend the lawsuit filed by the workers last week to reflect what she called "an outrageous act of retaliation against a man who did nothing but stand up for his rights."
It was clear today that the warehouse workers occupying the Monroe St. Walmart had the support of workers at the store, even though the non-unionized employees were afraid to vocalize that support. "I feel so good about this," a cashier whispered, "because they treat us with no respect here. They embarrassed me in front of all the front end associates yesterday because I was a penny short at the end of my shift."
Most of the customers smiled as the occupiers filed into the store and began their chants with some customers joining in. One customer on a checkout line even started her own chant: "Hey, hey, ho, ho, poverty wages have got to go!" – which was quickly taken up by the strikers.
Hines described the tough conditions faced by Elwood warehouse workers. "They treat you really bad," he said, and they don't care if you need a water break when its 100 degrees in there, or that you are choking and coughing from all the dust and chemical residue all over the place.
"When you are really in need of money, they don't care about sending you home after two hours and when they need help, they don't think twice about forcing you to work in all that heat and all those bad conditions for as much as 16 hours straight and then if you dare to speak up you get fired."
The Elwood workers have been engaging in a variety of tactics since their protests began. In addition to picketing, filing lawsuits, and now taking over a store, they have mounted a public petition campaign and are asking people to support that effort.
On Sept. 17, the workers left their picket line and descended on Walmart's regional offices in Rosemont, Ill., where they delivered tens of thousands of signatures in support of the workers.
The actions here in Illinois follow actions in California where on Sept. 12 Walmart warehouse workers walked off the job.
In California, contractors at Walmart warehouses were fined hundreds of thousands of dollars for violations of workers' rights and a federal judge issued several orders and injunctions in favor of the workers, including an injunction to stop the mass firing of workers who had filed the lawsuit.
Photo: Courtesy Warehouse Workers for Justice.