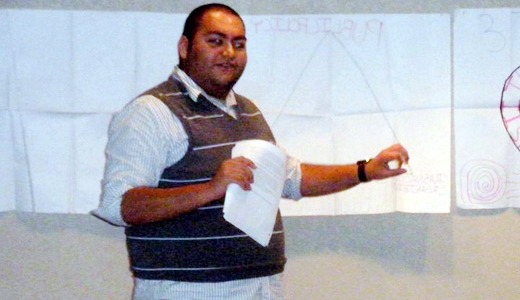 Daniel Hernandez was Arizona Democratic Rep. Gabrielle Giffords' intern for only five days before she was gunned down in Tucson, Ariz., Saturday, Jan. 8. Hernandez is now recognized as a hero for helping to save her life as she lay helpless on the concrete after being shot in the senseless act of violence that stunned the nation.
Hernandez is an active leader of the United States Student Association, the country's oldest and largest national student-led organization, representing over 4.5 million students at more than 400 campuses across the nation. USSA President Linda McCluskey called the hero, who is a trainer in the organization's Electoral Action Program, "the intern credited with saving Congresswoman Giffords' life."
The 20-year-old University of Arizona student had been helping people check in at the "Congress on Your Corner" event being sponsored by Giffords, known for hosting public outings directly with her constituents.
Hernandez told The Arizona Republic newspaper that he wasn't sure if the gunfire had stopped when he rushed to the area of the shooting. He said he saw many wounded people lying on the ground. He moved from person to person, checking people's pulses.
"First the neck, then the wrist," he said.
One person was already dead when he saw Giffords. Using his hand Hernandez applied pressure to the entry wound. She had been shot in the head. He pulled her into his lap, holding her upright so she wouldn't choke on her own blood. She was conscious, but unresponsive.
Hernandez never let go of her and stayed with her until the paramedics arrived. He climbed into the ambulance and held Giffords' hand the whole ride to the hospital, where he remained as she went into emergency surgery.
"She was one of the people I've looked up to," he told the Republic. "Knowing she was alive and still fighting was good news. She's definitely a fighter, whether for her own life, or standing up for people in southern Arizona."
Eight hours after the shooting Hernandez remained with Giffords' friends, family and staff. Speaking about the shooting Hernandez recalled his actions. "Of course you're afraid; you just kind of have to do what you can," he said. "You just have to be calm and collected. You do no good to anyone if you have a breakdown."
"It was probably not the best idea to run toward the gunshots, but people needed help," he said.
"On behalf of his four million fellow students in USSA, I applaud his heroic efforts to help those in need amidst gunfire. He epitomized the kind of courage that Ernest Hemingway called 'grace under pressure' and is an inspiration to all of us," said McCluskey, the USSA president.
She added that students nationwide send their heartfelt thoughts and prayers to the families that have lost loved ones and those still recovering from the tragic violence. "Such atrocities have no place in a society based on civility and compassion," she said.
Giffords, who continues her brave recovery, is a shining example of the type of leader students look up to, says McCluskey. She has demonstrated her devotion to social justice with her support of the DREAM Act and to increasing college access and affordability through voting for the Student Aid and Fiscal Responsibility Act.
USSA mourns the death of Federal Judge John Roll, nine-year-old Christina Taylor, Dorothy Murray, and Phyllis Schneck and send regards to their families, notes McCluskey.
"We hope for a successful and speedy recovery for Congresswoman Giffords, Ron Barber, and Pam Simon," she said.
Photo: Daniel Hernandez ,at USSA's 2010 Electoral Action Training program. From USSA's Facebook page.