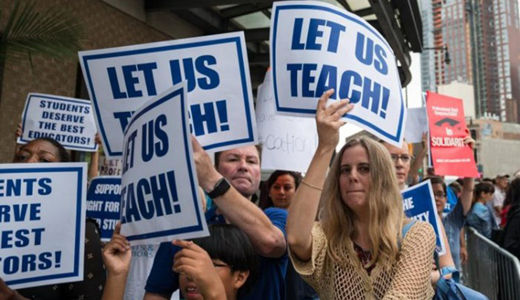 Faculty and students picketed side-by-side at Long Island University-Brooklyn and won. The Administration ended a 12 day lockout; unqualified, strike-breaking replacement teachers left, and classes resumed.
Most important, the student-teacher action forced the Administration to extend the teachers' union contract until May 31, 2017, and to come back to the negotiating table with American Federation of Teachers Local 3998, which represents the faculty.
LIU Librarian Emily Drabinski, AFT Local 3998 treasurer, said, "We made a really clear statement that you can't run a university without faculty and without students."
LIU is a private university. Its curent contract with Local 3998 had expired August 31, but negotiations had not been completed.
The Brooklyn faculty are asking for parity with the faculty at LIU's main campus, the old C.W. Post University, in Nassau County, on Long Island. Faculty there won a contract a short while ago with wages more than 20 percent higher than their Brooklyn counterparts.
Management offered a raise to full time, tenured faculty at the Brooklyn campus but demanded that adjunct faculty take pay cuts. It also wants to eliminate a trust fund for health insurance for the adjuncts.
The members of AFT Local 3998 – 240 full time and 400 adjuncts – offered to work under the existing contract and scheduled a negotiating session for September 14.
However, on the Labor Day weekend, the Administration prevented faculty members from entering their offices and using their e-mail accounts. It also stopped paying wages to faculty members and cut off all benefits, including health care.
What's more, management hired unqualified temps to teach classes.
"We were negotiating our five-year contract that ended [August 31] and before we even had a chance to present the administration proposal to the full membership, the day after Labor Day, the management preemptively locked us out, which is unprecedented in American history," said Local 3998 Vice President Ralph Engelman, chair of LIU-Brooklyn's journalism department. "We saw it as intimidation. Healthcare was taken away, we stopped being paid, and our access to university email was blocked."
Local 3998 filed charges against LIU with the National Labor Relations Board's regional office. These included failure to bargain, repudiation of the contract and bad-faith bargaining,
Furthermore, AFT President Randi Weingarten sent a letter to 14 national college organizations telling them of the lockout and saying it jeopardizes LIU-Brooklyn's academic standards and accreditations. The American Association of University Professors called the lockout an "ongoing attempt to coerce the faculty" into giving in.
Shortly after their teachers were barred from the LIU buildings, students took to the streets, chanting "You say lockout! We say walk out!" and "Join us! Join us!"
Sharda Mohammed, a sophomore studying philosophy, was quoted in Gothamist as saying, "We're aren't planning to go back to class at all until our professors are back.
"I walked into my English class and the guy gave us a syllabus and told us we could leave. He couldn't even pronounce the names of the books."
During the student walk out, co-organizer Devon Wilks told Democracy Now, "We're really rallying [to force] our president to get our professors back into the office right now.
"We want our professors to teach … we pay almost $40,000 for tuition, and it is unacceptable that our professors are not able to get into the classroom and teach the students."
Finally, the Administration gave in.
"If the university wanted to keep a semester viable for the students, they had to end the lockout because the students stood up and said, 'This is a betrayal,'" Randi Weingarten, the president of the American Federation of Teachers, said.
Photo: nyulocal.com