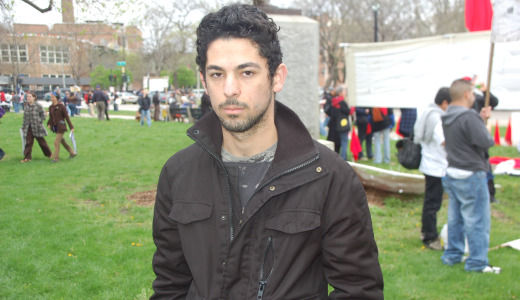 CHICAGO – Rigoberto Padilla, 21, came to the United States from Mexico with his parents at age 6 and has been living here for the past 15 years.
Like thousands of undocumented youth living in the U.S. Padilla has led a normal life. He graduated from high school, enrolled in college, and joined the honor society. He hopes to become a lawyer one day.
A junior at the University of Illinois at Chicago, he is a Latin American Latino Studies major with a minor in sociology. He's an excellent student.
Padilla has been fighting to remain in the U.S., the country he calls home, since he was placed in deportation proceedings last January due to a misdemeanor driving violation.
His deportation hearing was originally set for today. However after lawmakers, students, professors, religious leaders and immigrant rights advocates rallied to Padilla's cause, immigration officials last week agreed to delay his deportation hearing for a year. Deportation delays are rare and only 400 were granted last year.
"My family and I are all so thankful and so relieved," Padilla told the World by phone. "We're all very happy."
Padilla said his case brings much-needed hope to so many undocumented youth in his situation who want to go to school, graduate from college and give back to their country, the United States.
Padilla said he just wants to live a normal life, and happened to be in the wrong place at the wrong time when he was pulled over by the police.
"Eleven months ago I was told I had no chance to remain here but I worked very hard and I knew it was unjust and unfair. So I decided to fight to stay in Chicago because this is my home," he said. "I was determined not to give up."
His case will be reopened in a year, and he hopes by then he can prove why he deserves to stay in the U.S.
"They might send me back but I hope they give me another chance," he said. "I plan to work hard, study and continue doing well in school."
Padilla hopes to become an immigration attorney. He said his experience has taught him a whole new perspective about fighting for the rights of immigrants.
"I can relate," he said. "I know what so many families go through every day."
"This whole struggle was worth the fight and I have learned so much about activism and how to create unity in a movement for change and social justice," he said.
Padilla's supporters flooded the Department of Homeland Security with thousands of faxes and even designed a Facebook page telling 2,800 members how to help. The Chicago City Council passed a resolution in his behalf, and Rep. Jan Schakowsky, D-Ill., introduced a bill specifically for Padilla that would allow him to stay.
Meanwhile activists are urging Congress and the Obama administration to enact comprehensive immigration reform that would help the country's estimated 12 million undocumented earn a path to citizenship.
On Tuesday Rep. Luis Gutierrez, D-Ill., introduced a bill that would give a path toward legal residency to undocumented immigrants who pay fines, pass background checks and meet other requirements.
The bill, the Comprehensive Immigration Reform for America's Security and Prosperity Act of 2009, would allow college students like Padilla to fall under a separate measure known as the Dream Act. Requirements would include arrival in the U.S. at age 15 or younger, a five-year residency or more, and at least two years of college or military service. Versions of the Dream Act have been introduced in the past without success.
"I'm glad the bill was introduced," said Padilla. "It's a continuation for a strong push toward legalizing undocumented people especially students like myself. Immigration reform would benefit so many families facing deportation."
The bill enjoys support form the Congressional Hispanic Caucus, Black Caucus, Asian Pacific Caucus and Progressive Caucus. More than 70 of Gutierrez's House colleagues have signed on as original cosponsors.
Immigrant rights activists say the measure includes much-needed provisions that uphold our nation's values, protects our borders, workers and families, and move us forward together. It will not only ensure a more just system of immigration, but also contribute to the economic stability of our nation, they add.
The Illinois Coalition for Immigrant and Refugee Rights said it applauds Gutierrez's efforts and celebrates the deportation delay for Padilla.
Padilla's cse illustrates what is wrong with current immigration laws, the coalition said in a statement. Deportations have increased by 18 percent under the Obama administration, the statement notes, and there have been senseless deportations of hundreds of thousands of immigrants who have been contributing members of this society. These are people that work, pay taxes, and own homes. As to Padilla, he has been deeply involved in the community, volunteering, studying and working to make Chicago a better place.
Joshua Hoyt, the coalition's executive director, says the U.S. is on track to deport more than 400,000 immigrants this year.
"Families are destroyed, the labor market is churned, homes are foreclosed, and communities are damaged," he said. "We cannot fix the broken immigration system on a case-by-case basis. We will continue to push for comprehensive solutions that will end family separation and will provide a path to citizenship for those that work hard and contribute to this society."
The AFL-CIO has also announced backing for Gutierrez's immigration reform legislation. It says the bill provides a long overdue and sensible approach to immigration reform and protects the interests of all workers – foreign- and U.S.-born.
The union movement is also urging reforms that will enable relevant agencies to regulate foreign labor recruiters, essential to stopping the exploitation of these vulnerable workers.
Photo: Rigoberto Padilla. (PW/Pepe Lozano)