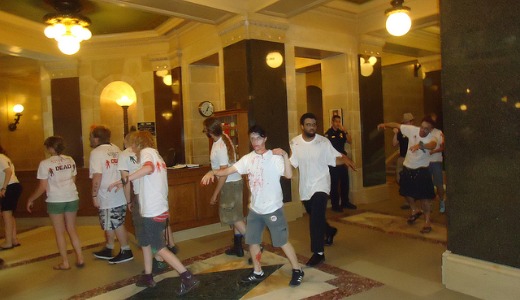 Student activists and education advocates staged a "die-in" and "zombie march" in Madison, Wisconsin, last week as a part of Higher Education Day.
The United Council of Wisconsin Students organized the action in response to Republican Governor Scott Walker and the Republican legislature's proposed cuts to higher education and other anti-student measures.
In a press release the student leaders said, "The legislature is ignoring students by passing the Voter ID Act, cutting more than $250 million from the University of Wisconsin system, and ignoring student-friendly amendments."
Matt Guidry, director of communications for the group, told the WisconsinRepoter.com, "Students are kind of getting the short end of the stick, as it were, from the Legislature. You're hurting students and making education less affordable."
The student zombies were covered in blood with the words, "students are as good as dead," written on their white T-shirts. They marched to the steps of the statehouse and dropped dead.

After a short "eulogy" to mourn the death of the "public university system" and "student voting rights" the dead began to rise. Then they marched with the traditional zombie swagger into the statehouse and fittingly demanded brains.
Their next stop was the office of Republican State Sen. Robin Vos, where the zombies died again until police came and cleared them out.
Speaking to the WisconsinReporter Republican State Sen. Glenn Grothman referred to the action as "just a bunch of students that, if the Republicans said black, they'd say white, if the Republicans said up, they'd say down."
A group of the protestors also made their way to the opening ceremonies of the Special Olympics where they stood silently with their backs turned against Governor Walker who was speaking at the event.
The action was a part of a series of events that are being organized in "Walkerville," a tent city that has been erected at the steps of the State Capitol building to hearken back to the days of the depression-era and the Hoovervilles.
Photo: Wisconsin's AFL-CIO flickr account.