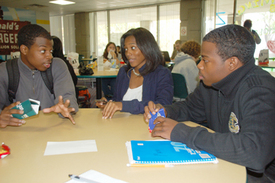 DETROIT, Mich. — People here say the struggling U.S. economy including rising unemployment has hit this city the hardest and as Nov. 4 approaches, first-time voters are gearing up for the most important presidential election of their lifetime.
Students at Wayne State University here who plan to vote for the first time next month shared some of their thoughts about the election and issues important to them. Here is what some of them had to say.
"I'm excited because for the first time in our history we might have an African American president and we need change," said 19-year-old Christen Hudson, an African American student at Wayne State who is eager to vote for the first time in November.
Chemistry student Mike, who is 19, said, "The economy has affected Detroit a lot worse than other cities across the nation. We are really feeling the burden."
Education is a priority, said Mike, who is African American. He said he plans to vote for Obama not because he is Black but because he is the best candidate. He also believes Joe Biden will be a better vice president than Sarah Palin. "We need someone who will fix the economy and Obama and Biden can do that," he added.
Courtney Lawson, 19, an African American, works part-time at McDonalds and is a full-time student. It has been financially hard these days for her family and they have been tightening up their budget, she said. Being able to afford textbooks has not been easy either, she added.
"Financial problems are a big toll on my family," said Lawson. "I am very excited to vote for Obama this year because he has a better plan to fix the country's problems."
Lawson noted, "It's very important for young people to get involved because we are going to be the ones that have to deal with the future and we have to take steps to make sure that our future is secure." Lawson said young people should take their vote seriously.
Another first-time voter, Jordan Grayshik, 18, is a biochemistry major who is white and lives in a suburb outside Detroit. Grayshik works part-time as an environmental technician collecting water and mud samples for a laboratory where they measure the amount of mercury.
Grayshik said he supports Obama because he has better positions when it comes to helping middle class families like his who are struggling, instead of big corporations that make record profits.
"I don't want to graduate and seek employment when our economy is getting worse and being compared to the Great Depression," said Grayshik. He comes from a union household. He said his community is predominantly white and usually votes about 75 percent Republican. But things are changing and Grayshik feels Obama could win there this time around.
"The thing I like about Obama is that he is African American. Some might think that a white kid from an upper middle class suburban neighborhood in a Christian Lutheran family will vote Republican," he said. "But it's not true."
In western Michigan, Vanessa Crowley, 22, is a senior at Grand Valley University in Grand Rapids studying social justice and is active on campus and in her community with the Obama campaign. She has been door knocking and phone banking there at least twice a week for a couple of hours each time.
Crowley questions the type of world young people are growing up in and it terrifies her to know McCain voted with Bush over 90 percent of the time. She is white and transgender and said civil rights, women's reproductive rights and lesbian, gay, bisexual and transgender rights are important to her.
"But in general it's the economy" that concerns her the most. Crowley has been unemployed for several months. "The widening gap between the rich and poor is increasing and that's a major problem," she said.
"A lot of people are talking about the lack of jobs here in Michigan where wages are not living wages and families can't afford to feed their families," noted Crowley.
The voters she has talked to are divided about 50/50 between Obama and McCain. She said she talks to a lot of people who voted Republican their whole lives. "But now they feel let down and are finally thinking for themselves and are planning to vote for Obama," she said. They see the contradictions between their everyday material conditions and the right-wing ideology put forth by McCain and the Republicans, said Crowley. "They just don't line up."
The number of young voters under 30 has risen dramatically nationwide over the years and polls show young people prefer Obama over McCain by 2 to 1. The most recent Gallup poll shows Obama leading McCain 60 percent to 34 percent among voters under 30.
Turnout among youth increased by 9 percent from 2000 to 2004, according to U.S. Census data, more than twice any other age group. In 2004, 20 million young people voted, an increase of 2 million voters from the 2000 election. In 2006, youth voter turnout rose to 25 percent.
Political experts are predicting record numbers at the polls next month and many say this turnout is partly due to the number of young voters who plan to make their voice heard on Election Day. Experts say this year's election could bring out the largest youth vote ever.
plozano @ pww.org