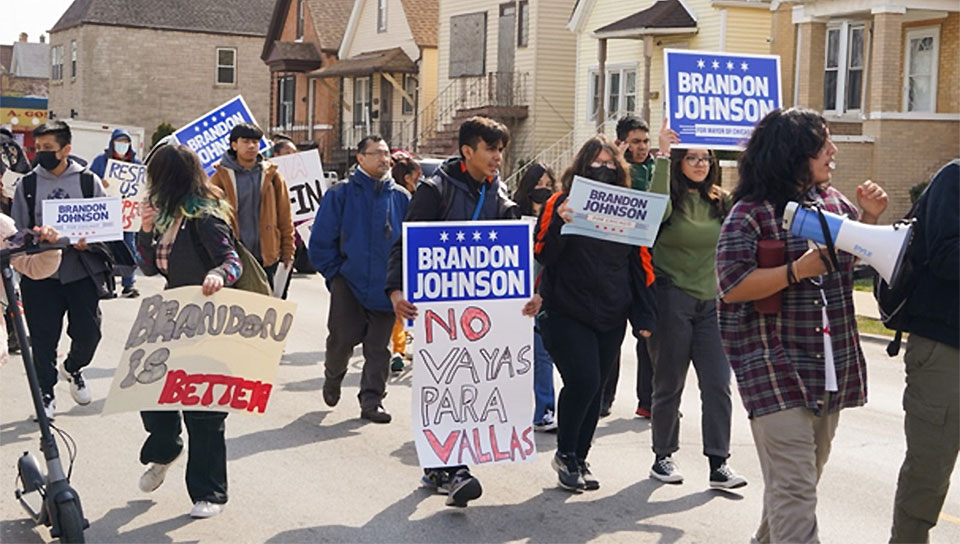 CHICAGO — Most of the students at Little Village Lawndale High School (LVLHS) are too young to participate in Chicago's upcoming mayoral election, and many of those old enough are barred from participating because of their immigration status. Nevertheless, scores of high school students protested outside of LVLHS on March 30 to condemn mayoral candidate Paul Vallas.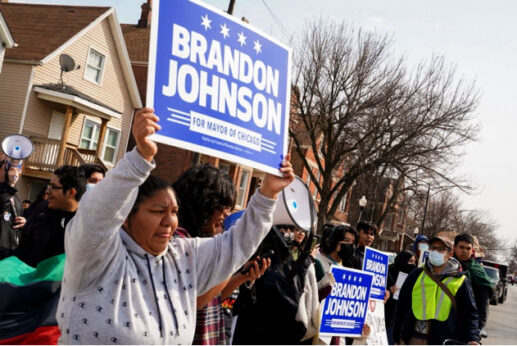 "Vallas tried to give the money that was allocated for this high school to build schools in white areas. He cannot, and does not, support the public education system in Black and brown communities, in low-income communities," said Jalen Turney, one of the hundred student protestors huddled outside of LVLHS on Thursday. They gathered just before 8th period, holding Brandon Johnson posters and rocking handmade T-shirts with "Que te Vallas!" crossed through in red. The T-shirt slogan is a clever play on words: "que te vayas" meaning "get out" or "go away" in Spanish.
Moments prior, administrators could be heard over the intercom: ALL STUDENTS, INCLUDING THOSE WHO PARTICIPATE IN AFTER-SCHOOL ACTIVITIES AND NIGHT SCHOOL, WILL NOT BE PERMITTED BACK INTO THE BUILDING IF THEY WALK OUT.
They walked out anyway.
The students at Little Village Lawndale High School recognize the importance of building a mass movement of young people directly involved in this election between Brandon Johnson, and former CEO of Chicago Public Schools Paul Vallas.
In the late 1990s, Vallas tried to block the building of the very school LVLHS students now attend.
In 1998, under Vallas' leadership, Chicago Public School officials announced that three high schools would be created—Little Village, Walter Payton, and Northside College Prep. Both Walter Payton and Northside College Prep were opened by 2000. They were aimed at recruiting "high-achieving students to the public school system" according to an article published in the Chicago Tribune. For the residents of Little Village, however, only an unfulfilled promise remained on the empty lot on 31st and Kostner Avenue.
On Mother's Day 2001, women in the local community took to the streets and began a 19-day hunger strike—pressuring the Vallas administration to follow through on its promise to open a school in their community. Natalie Magallanes recounted the struggles that these mothers and grandmothers went through to ensure that a good public school would be built for their children. "I grew up here. I am Chicana. I've seen the struggle it took for my school to be built." said Magallanes. "[Vallas] was given money for three schools. He was against our school being built, but he built two schools in the white areas because they aren't "ghetto". He didn't want to build this school for us. He didn't want to build this school for Black and brown students. It was our mothers, our abuelitas [grandmas], that created this school."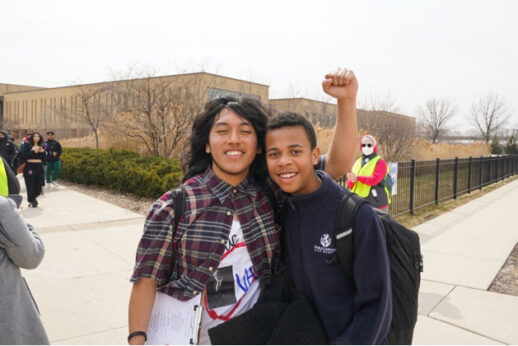 For students like Angel Naranjo, an organizer and graduating senior at LVLHS, Paul Vallas represents a concerning shift in power away from the people and towards private interests. Angel noted that "Vallas has a track record of going from city to city across the country and messing up the public school system by privatizing them and creating charter schools. He places our schools in the hands of individuals who only care to maximize profits off of them."
It's easy to trace Paul Vallas' attacks on public schools throughout his career. In 1995, he was appointed the first CEO to run the Chicago school system under Richard M. Daley's neoliberal administration. From the start, Vallas was an ardent supporter of charter schools and standardized testing. He managed the Chicago public school system with private interests at the fore. A newly released report shows that Vallas took out roughly $650 million in capital bonds which will cost the city $1.5 billion with interest.
After his stint in Chicago, Vallas served as CEO of Philadelphia schools where he oversaw a $73 million budget deficit. Vallas brushed off the multi-million dollar loss by citing increased test scores and the creation of five new schools in the Philadelphia area. Most of the schools opened under Vallas' leadership, however, did not benefit local Black and brown working-class communities. Under his steam, Philadelphia experienced one of the largest privatizations of a public school system and saw a significant increase in charter schools created—despite protests from students and teachers.
Vallas promotes ROTC to military pipeline
Vallas' record also shows strong support for military school programs—which he believes are best used to increase and "diversify" the city police force. While campaigning for mayor of Chicago, Vallas stated, "We have 10,000 young people in ROTC programs. I opened seven military and first-responder high schools in Chicago. And there are, I think, 40 ROTC high schools and 46 percent of those 10,000 students are women. We can provide a direct pipeline from the ROTC programs". According to an article published in the TRiiBe, while running school districts in Philadelphia, New Orleans, and Bridgeport (Connecticut), "[Vallas] opened charter schools, promoted military schools, and expanded standardized testing and zero-tolerance disciplinary policies."
Senior Lucy Eustaquio wore her Civilian Police Accountability Council T-shirt to a Brandon Johnson mass rally following the student walk-out Thursday night. The protesting students at LVLHS say they see a relationship between access to public schools and police accountability. They've elevated racist policing in their communities as one of their chief concerns.
The Little Village "Fight Back" coalition dedicated hundreds of hours to support the most recent District Police Council election on Feb. 28. They worked with the Chicago Alliance Against Racist and Political Repression to establish elected council members for police accountability.
At the rally, three LVLHS activists were invited on stage with the candidate along with Vanessa Sanchez, a senior at World Language High School, who got involved in the struggle after the death of Adam Toledo. Adam was shot to death by a cop a few blocks from Vanessa's home in the spring of 2021. Thirteen-year-old Adam had his hands in the air when he was killed.