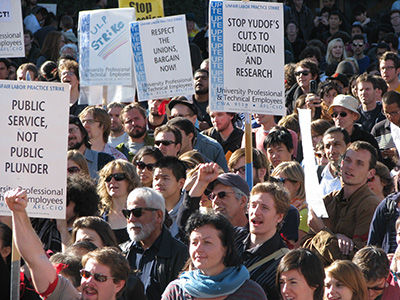 BERKELEY, Calif. – Thousands of students, faculty, campus workers and community supporters gathered Nov. 18 in historic Sproul Plaza on the University of California's campus here, to demand University of California regents not pass an expected 32 percent fee increase that would bring yearly undergraduate tuition above $10,000 for the first time.
The protests coincided with a two day regents meeting in Los Angeles. Organized by the faculty/staff/student Solidarity Alliance, the General Assembly, Graduate Student Organizing Committee, Student Worker Action Team and the University Professional and Technical Employees union (UPTE), the rally and other actions also supported UPTE's two-day unfair labor practices strike.
The 10-campus, 220,000 student UC system has been up in arms this fall to fight cutbacks, layoffs, furloughs, the proposed "fee" (tuition) hike, and furloughs – all supposedly justified by California's budget crisis – while at the same time already highly-paid top administrators have received big salary hikes. Protests have centered on the need to keep the system public and effectively serving the state's economically, racially and ethnically diverse population.
Meanwhile, in Los Angeles, as the regents' finance committee voted for the fee hike, student protests forced the regents' meeting to recess three times. Police arrested 14 protesters.
"It is not business as usual when students face fee hikes, when workers are laid off, when faculty are told to shut up and put up!" Ananya Roy, professor of city and regional planning and a Solidarity Alliance leader, told the cheering crowd. "It is not business as usual when in Sacramento, Governor Arnold Schwarzenegger talks about deeper and deeper spending cuts and refuses to consider increases in taxes, when our so-called leaders in the UC system wrap themselves in defeatism and fail to make the case for public education."
Sophomore Noah Stern, a student senator, invoked the history of Sproul Plaza and the 1960s Free Speech Movement as he emphasized that "any single victory, any single battle, and freedom for anyone, is inevitably intertwined with that of all students, all faculty and all staff. We will fight to protect the strength, diversity and character of this university," he concluded.
Linguistics professor George Lakoff, well known for his analysis of the use of language in politics, told the crowd he's already acted for a basic solution to the state's budget crisis, by starting the approval process for a majority-rule initiative in budget matters. Pointing to California's unique requirement of a two-thirds majority to pass a budget or raise taxes, he urged support for the constitutional amendment stating "all legislative actions on revenue and budget must be determined by a majority vote."
The University Professional and Technical Employees struck Nov. 18 and 19 over layoffs including members of UPTE's bargaining committee. But they are far from the only union finding the university a problematic employer. Earlier this year it took months of difficult talks for AFSCME to win a new contract.
And, as Amatullah Alaji-Sabrie, chief negotiator for the Coalition of University Employees, told the World, when at the university's invitation, CUE proposed alternatives to the university's proposals, the administration rejected every one. CUE represents the university's clerical workers.
"The university is not being fair, they are being bullies in the bargaining," Alaji-Sabrie said. "They continue to give large increases to senior management on grounds they are doing more work. But our members have been doing more work for years, laboring under conditions of overload and speedup. There's a big discrepancy between their claims to be a public service institution and their being concerned, first of all, about their bottom line."