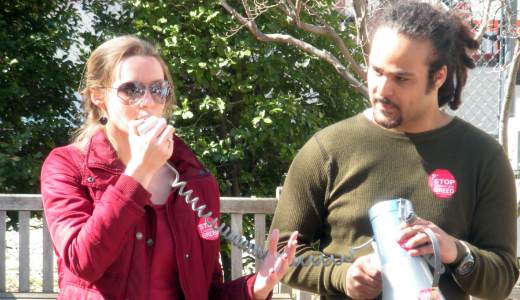 More than 10,000 students and supporters rallied at over 35 locations in 15 states across the country March 2, during a national day of action to defend public education and the rights of public workers.
The actions were organized by the United States Student Association, Jobs with Justice, the two groups' joint effort the Student Labor Action Project and other groups to defend public sector unions and the public education system. Both have recently been under attack by GOP lawmakers' budget cutting proposals.
From coast to coast student activists led walkouts, rallies and protests at state Capitol buildings and college campuses. Rallies were held at the University of Wisconsin's Milwaukee and Madison campuses, at San Francisco University, University of Cincinnati, University of Iowa, University of California's Los Angeles and Riverside campuses, University of Massachusetts at Amherst and at dozens of other schools.
Chris Hicks, SLAP's national coordinator, helped lead a campus action at the University of Central Florida in Orlando with over 150 students.
"These students are the workers of tomorrow and what happens to workers today directly affects our future," said Hicks.
Defending the basic rights of public workers could mean standing up for neighbors who pay taxes and want to afford a higher education for their children, said Hicks. "These include workers on college campuses nationwide that make sure there is food to eat in our cafeterias, that clean our dorm rooms and maintain school buildings," he said.
"Although we live in a very individualistic society I believe people fundamentally care about one another and really want what's best for each other," said Hicks. "When I see television images of students, workers, community and faith leaders standing up for their rights in Wisconsin, it's the most beautiful thing I have ever seen. It shows the best aspects of humanity."
Hicks said the actions this week were only the beginning. The recent wave of attacks by Republican governors and state legislatures have focused only on students and public workers, though there is no attempt made to hold corporations responsible for tax dodging, he added.
Student activists say too many attacks are being launched against workers, students, communities and the public sector as a whole. It's time to unite, stand up and fight back against draconian federal and state measures that fall on our backs, they say.
Student activists are demanding the following:
– Protection of the vital public services that communities need, and the jobs of the people who deliver those services;
– Assurance that higher education remains affordable and accessible to all;
– Recognition by elected leaders of the emergency and take bold action to create new jobs that will put people back to work, rebuild the country's infrastructure and reinvest in higher education; and
– Support for workers seeking a job with a living wage and the right to organize a union, a fair contract and a voice on the job.
USSA president Lindsay McCluskey said, "Students in Wisconsin, along with labor leaders, are fighting to ensure that we as Americans have a say in the conditions under which we study, work and live."
She notes, "Students and workers have a shared struggle and we need to be unified in our fight back. If we don't work together we won't be as strong."
McCluskey said the March 2nd national day of action was scheduled before the budget protests in Wisconsin had erupted. But what's happening there resonates for people nationwide, she said. "Wisconsin has inspired what students and workers can achieve when working together," she said.
"The wave of attacks are a wake up moment for our generation," said McCluskey. "Right now young Americans are waking up to shape our future. Wisconsin highlights a real turning point for young people who are fighting to shift the tide and are standing up for what they believe in because so much is at stake."
More and more college graduates are getting public sector jobs and attacks on those workers rights would only weaken those jobs, said McCluskey.
"This fight is about education and the rights of workers to build a strong middle class where jobs, benefits and joining unions are protected," she said. "Creating more wealth disparities equals less job opportunities for people. This is really about our most basic rights as citizens living in a democracy."
McCluskey hopes the recent display of student and worker protests in Wisconsin, Indiana, Ohio and other states inspire people everywhere to get active and stand up for their rights.
Meanwhile USSA and SLAP are encouraging supporters to call members of the U.S. Senate to oppose the draconian cuts to higher education and social programs in the Continuing Resolution recently passed in the House.
Photo: USSA President Lindsay McCluskey, left, and student activist Isaiah Toney lead a March 2nd rally organized by the Progressive Student Association at George Washington University in Washington D.C. By Jake Stillwell.