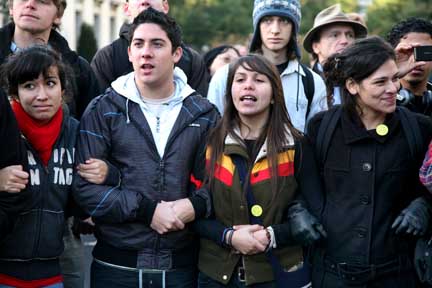 BERKELEY – Students occupied Wheeler Hall on the University of California campus in Berkeley, protesting a decision by university regents to raise fees (the equivalent of tuition) by 32%, bringing them to $10,302 per year for undergraduates.
At the beginning of the occupation the students made several demands, including the rehire 38 laid off custodial workers, and amnesty for protesting students.
The hall was surrounded by hundreds of supporting students, faculty, campus workers and community members. The day before the occupation, two university unions – the University Professional and Technical Employees and the Coalition of University Employees – together with students and members of campus faculty mounted a campus-wide strike.
After a day of occupation, students voluntarily left the building, and were cited for misdemeanor trespass. On other campuses, including at Los Angeles, Santa Cruz and Davis, students also occupied buildings and in some cases were arrested.
Puck Lo, a student at the UC Berkeley Graduate School of Journalism, and one of those occupying Wheeler Hall, told the LA Times that the protests were taking place during a period in which students also had to study for coming final exams. "This strike is really inconvenient," she said. "But this seems the honorable thing to do for future students."
Photo: David Bacon