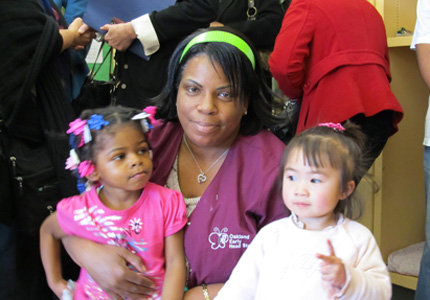 A new study by researchers at Oregon State University shows that when young children living in foster care or with family members other than their parents participate in the early childhood education program Head Start, they are better prepared for school, both academically and in their behavior, than their peers who don't participate.
The study, published in the Journal of Applied Developmental Psychology, is based on data the researchers obtained from the 2010 Head Start Impact Study, a nationally representative sample of Head Start programs and families commissioned by the federal government.
The researchers looked at an area not examined in the original study: the specific impacts of Head Start's comprehensive early child development services on low-income children living in non-parental care.
Lead researcher Shannon Lipscomb, an expert on early childhood development who teaches at Oregon State University-Cascades, said such children often have unstable home lives, sometimes living with one family member for a month and then transitioning to another.
"These are kids who face heightened risk factors even beyond those of other children living in poverty," Lipscomb said. "They are more similar to what we find in kids in child welfare. They have a lot of challenges in their lives, and the stresses of that can cause behavioral and development issues."
The researchers sought to learn if Head Start – a wraparound program linking children, teachers and parents – would benefit kids living in nontraditional families who may have different caregivers at different times.
After analyzing data on 253 children in non-parental care, they found a modest but statistically significant benefit in school readiness, including early academic skills, positive teacher-child relationships, and fewer behavioral problems.
While children in non-parental care need more services and supports, many of their needs can remain unmet, especially if they are not living in formal foster care and/or are younger than six years old, the study found.
But even while they aren't getting the formal mental health or special education services they need, the researchers said, many are attending early childhood education programs. Over half the children 3 to 5 years old living in out-of-home placements are participating in center-based early childhood education, with nearly one-fifth of these children enrolled in Head Start, the largest publicly funded early childhood education and care program in the U.S. The program was founded in 1965 to provide comprehensive services to disadvantaged preschoolers and their families.
The children in the study, all about four years of age, were divided into two groups – those specifically participating in Head Start and those attending other early childhood programs or none at all. Almost half in each group were Anglo-American, just under 40 percent were African American, and the rest were Hispanic.
Primary caregivers and children were interviewed, children were assessed by trained research assistants, and teachers of those children participating in early childhood education programs filled out a series of questionnaires.
Head Start is threatened by huge cuts if the automatic budget cuts contained in the sequester go through. The Congressional Budget Office says federal spending, now at about $8 billion yearly, would drop by nearly $600 million. The National Education Association says 80,000 children would be cut, and over 30,000 teachers, aides and administrators would lose their jobs.
Supplementary state funding also dropped by nearly half in the first decade of this century, according to the National Institute for Early Education Research at Rutgers University.
Photo: Head Start children with their teacher, in Oakland, Calif. Marilyn Bechtel/PW