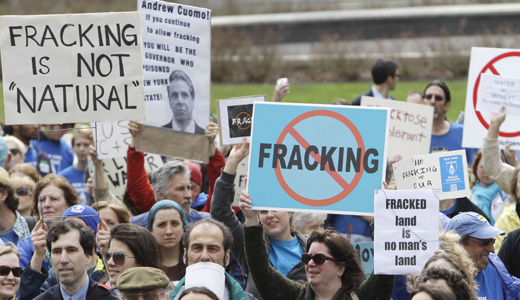 According to a new scientific study, salty fluids rich with minerals in parts of Pennsylvania's Marcellus Shale are seeping thousands of feet upward, right into drinking water. This suggests that drilling waste and chemicals caused by fracking might migrate as well.
Scientists at Duke University and California State Polytechnic University conducted the research, which involved the testing of drinking water wells across Northeastern Pennsylvania. In many instances, the water was mixed with brine that had seeped in from the Marcellus Shale.
The Marcellus Shale is believed to be rich with natural gas, and so fracking, which involves the extraction of that gas, is a top priority for the gas industry. Fracking has been proven to pose a number of threats both to the environment and peoples' health, and the study, released July 9, concluded that deeply buried rock layers will not necessarily keep harmful fracking chemicals away from drinking water, as previously thought.
The brine that was found had moved thousands of feet to reach the well water, and while its presence had nothing to do with fracking, continuous tampering with the Marcellus Shale could change that – potentially exposing the water to toxicity.
"Everything is not black and white," said Avner Vengosh, a Duke University professor of geochemistry and one of the researchers. "We're just at the very beginning of understanding what's going on. The result of this study does not apply to all of Pennsylvania. It needs to be duplicated."
In a separate study conducted by some of the same Duke researchers in 2011, it was also understood that methane gas was much more likely to leak into water supplies in places that were adjacent to drilling.
"In this paper," said the study, "we evaluate the potential impacts associated with gas-well drilling and fracturing on shallow groundwater systems of the Catskill and Lockhaven formations that overlie the Marcellus Shale in Pennsylvania. Our results show evidence for methane contamination of shallow drinking water systems in at least three areas of the region and suggest important environmental risks accompanying shale gas exploration worldwide."
In a report released by the Penn Environment Research and Policy Center, it's noted that fracking in the Marcellus Shale poses a significant threat to entire populations. "From Pittsburgh to Scranton, gas companies have already drilled more than 3,000 wells," said the report, "and the state has issued permits for thousands more. Permitted well sites exist within two miles of more than 320 day care facilities, 67 schools, and nine hospitals statewide."
Whether further contamination of Pennsylvania drinking water from the effects of fracking is imminent, is yet to be seen.
"The biggest implication is the presence of connections from deep underground to the surface," said biology professor Robert Jackson, who was part of the study. "It's a suggestion based on good evidence that there are places that may be more at risk."
Photo: Rally against fracking in the Marcellus Shale region, at the Capitol in Albany, N.Y. Mike Groil/AP