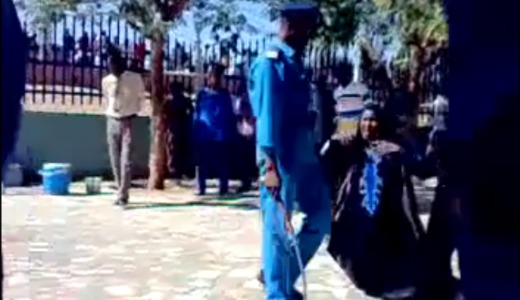 Scores of Sudanese women's rights activists and their allies descended on the offices of Sudan's Ministry of Justice, Dec. 14, to protest the beating of a young woman by laughing police officers that was captured on video and circulated around the world.
The video is available here, but be warned: it is extremely graphic and disturbing.
"The protesters were in the hundreds, planning to present a memorandum to the Minister of Justice," the Sudanese Communist Party said in a statement. "The security forces surrounded the protesters and demanded that they disband immediately. The peaceful protesters refused, demanding that the security forces respect their constitutional rights of peaceful assembly."
Sudan has a troubled political situation. Government-backed militias have targeted and killed many in a bloody civil war in the south, especially around the Darfur region. In certain areas of the country religious extremists have sought to take control.
The current controversy began when police officers found a young woman, covered head-to-toe in an Islamic robe, to be "mixing with men." According to them, this was "un-Islamic," and the woman was immediately lashed. The officers are shown in the video laughing as the woman was attacked.
The video sparked outrage around the world, but the fury started in the Sudan itself, forcing even columnists in government newspapers to call for an investigation.
Though done in the name of Islam, Sudanese Muslims seem appalled. In the video, some Muslim passersby told the officers, "God is the only authority" – not police officers.
The Sudanese government answered the protests with repression.
"Without warning, the police attacked the protesters, injuring a number of them and detaining 33 activists," said the Sudanese Communist Party statement. Among the arrested were SCP leaders and members.
As of press time, the protesters were still in prison. The Sudanese Communist Party is looking for international solidarity. Its statement says, "We call upon [you] to immediately protest to the Sudanese [government] or the nearest Sudanese embassy, demanding the immediate release of all detainees and respect [for] women's dignity and their rights and individual freedoms as well as to abolish all the laws that discriminate against Sudanese women.
Image: Scene from the shocking video.