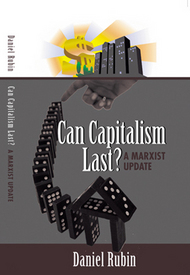 This eclectic list of summer reading faves from People's Weekly World/Nuestro Mundo readers and supporters was collected via e-mail and Facebook. Have other ideas? E-mail us ator contact us on Facebook: www.facebook.com/peoplesworld.
"Can Capitalism Last? A Marxist Update?" By Daniel Rubin.
Available through International Publishers, www.intpubnyc.com, this book is essential for anyone who wants to "Heal The World" and make fundamental change today.
— Barbara Russum
"Open Veins of Latin America" by Eduardo Galeano really brings to life the process of primitive accumulation that occurred in Latin America at the hands of European empires.
— Damien Mathew
I'll recommend three works, each very different, for people who may have "escaped" these classics:
The 3-volume "Selected Works: Karl Marx and Frederick Engels" there are dozens of publications of this work. Why read it? It puts "socialism" in context for younger readers and it is in scope and tenor a classic of its era and yet still "alive."
Michael Harrington's "Toward a Democratic Left" published in 1968, is a forceful document in support of the more liberal point of view without falling into ideological rhetoric.
On the strictly American, capitalist side, I recommend anything by John Kenneth Galbraith written in the 1950s. This brilliant thinker discusses "planned obsolescence," the fallacies presented to the post-WWII generation prodding them down, most familiarly, "the revolutionary road."
Wrapping up, don't "'dis" the classics to help you understand why we are (in America) where we are today.
— Deborah Churchman Hart
"The Point of Pittsburgh, Production and Struggle at the Forks of the Ohio" by Charles McCollester" is the history of Western Pennsylvania from a workingclass perspective.
"Contrary Notions: The Michael Parenti Reader"
— Donna Vincene Puleio
"The Origins of Capitalism" by Ellen Wood
"Propaganda" by Jacques Ellul
"The Gift" by Marcel Mauss
— Dwain Reeves
"China's Global Strategy. Towards A Multipolar World" by Jenny Clegg. China's strategy of engagement in world affairs: participate in or influence all regional organizations [e.g. mercosur, ASEAN, EU, African Union, Shanghai Cooperative Organization] and world financial organizations, e.g. WTO. By doing so, China hopes to create a situation where the United States becomes less hegemonic, less effective in its unilateral[especially military] initiatives. The book also provides an update of China's internal political and economic situations and gives a positive spin on China's response to some really serious concerns and problems. It argues that China is practicing in its own way a 21st century Leninism. Above all, an easy read. The $33.00 is worth every penny.
— Gary Hicks
Only for the summer. Only if you have time. Read a proverb a day from "The Bible," the Best Information Before Living Earth.
— Geniene L. Mitchell
"The Given Day" by Dennis Lehane. For a fast moving novel that mirrors some of today's issues. The novel begins with the worldwide flu pandemic of 1918 and ends with the Boston police strike of 1919 through the eyes of two main characters, Luther, an African American man forced to leave Tulsa and come to Boston, and Danny, a Boston police officer and leader of the police union. You may find that some of the subplots may have been better done. Three of Lehane's novels have been made into movies, "Mystic River"; "Gone, Baby, Gone"; and "Shutter Island" (to be released in October 2009).
Also "Infected: A Novel" and "Contagious" by Scott Sigler for horror and science-fiction fans. Sigler strives to use "real science" in his novels and not rely on "magical" crutches to get his protagonists out of dangers.
— Jose A. Cruz
"The Shock Doctrine" by Naomi Klein. Anyone who hasn't yet read this book should put it first on the list. Now that it's out in paperback, the cost is much lower. And "The Underground History of American Education" by John Taylor Gatto Eye-opening — and absolutely free, if you read it online at www.johntay
lorgatto.com/chapters/index.htm. (It's also available in hard copy, as is a newer work by the same author).
I learned far more from these two volumes about what's really going on than from any other books I could name.
— Katherine (Erin) Harris
"Viral Spiral: How the Commoners Built a Digital Republic of Their Own" by David Bollier is a compelling history of and explanation of the movement to protect art, literature, culture and ideas for the common good.
— Libero DellaPiana
Nikola Tesla's autobiography titled "My Inventions" is a great short read and provides an in-depth look at Tesla's works. More importantly, he expounds on his personality and how he came to be. It's a very short read with 79 pages.
Another book I read, which was very good, was Ernesto Guevara's "The Motorcycle Diaries." The book shows a young Argentinian medical student grow and evolve into the revolutionary mind that still resonates in our minds to this day.
After reading that I opened up Guevara's "Reminiscences of the Cuban Revolutionary War." This diary, in contrast to "The Motorcycle Diaries," characterizes life as a revolutionary living in the rugged mountains of Cuba. All the while dodging bullets and Batista's henchmen — armed struggle and guerilla tactics are not for the faint of heart.
— Marco Rodriguez
"Power Shift: Knowledge, Wealth, and Violence at the Edge of the 21st Century" by Alvin Toffler
— Narayana Moorthy
"The Dispossessed" by Ursula LeGuin is the best novel ever written about a moneyless, egalitarian society, and "The Left Hand of Darkness" and "The Word for World is Forest" do similarly good takes on gender identity and planetary/species exploitation. Also Starhawk's wonderful novel "The Fifth Sacred Thing, which is about how an egalitarian and nonviolent (but not passive) society can defeat its enemies without becoming them. Pagan perspective, but not dogmatic. All four are easy to find, used or new.
— Rain Adkins
"Dialectical Materialism" by V.G. Afanasyev
"Working Class USA" and "Fighting Racism" by Gus Hall
— Robert Scott
"Che Guevara: A Revolutionary Life" by Jon Lee Anderson is the definitive Che biography; "The War Within" by Bob Woodward. Everyone should know what goes on when capitalist war hawks are given power; and for the advanced fiction readers, "A Portrait of the Artist as a Young Man" by James Joyce and its "sequel," the infamous "Ulysses."
— Ryan O'Connell
"The Demon of Dakar" by Kjell Eriksson is one of those kinds of crime novels that you can't put down. Kjell Eriksson manages to weave the story of a Mexican farm family, horrors of "free" trade, working-class life in Sweden, drug dealing and numerous human emotions into a cohesive and suspenseful summer read.
— Teresa Albano