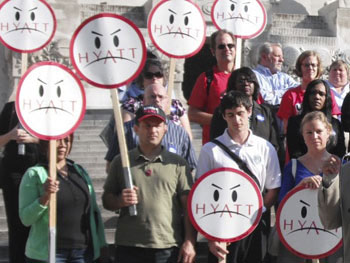 Over the weekend, all eyes were on the Super Bowl in Indianapolis, where tens of thousands traveled to see the event and hundreds of thousands more watched it on television. But while the spotlight was on the game, workers across the city took to the streets to protest the outrages happening to working people.
In one such event, we rallied at the Hyatt Regency in downtown Indianapolis, where hardworking hotel housekeepers are fighting to keep their jobs and boost their poverty-level pay at a hotel where rates can be more than $1,000 a night for a Super Bowl week room. Twenty longtime hotel workers may be out of jobs in a few days when the hotel ends a subcontract with Hospitality Staffing Solutions.
The hotel workers are not in this fight alone. In the midst of what is undoubtedly the busiest few days for football players, DeMaurice Smith, executive director of the NFL Players Association (NFLPA), and NFL players joined Hyatt housekeepers at the rally to demand Hyatt end its abuse of subcontracted workers and hire outsourced workers directly. Smith said NFL players would continue a year-old boycott of Hyatt over its treatment of workers and told the crowd:
I love people who stand together to fight for what's right.
Just blocks from the Super Bowl, these football players, together with construction workers, office staff and steelworkers, stood side by side with hotel housekeepers, joined in common cause by the struggles that unite all working people-all of the 99 percent in this country who are fighting against corporate greed and challenging politicians who seek to take away our rights as citizens of this great country
Days ago, some of those politicians right here in Indiana pushed through the state legislature legislation that is a massive assault on the wages of the state's working people. The "right to work" for less bill was hustled through the legislative process in a series of dirty tricks in outright contempt for democracy.
What's happening in Indiana is just one part of the massive assault on working families across the country. Yet over the past year, we saw again and again the strength of collective action, of public protest in state after state as the rights of workers came under attack. We re-learned that we are not alone, and we have seen that when we stand together with those who share our values, victory is ours.
Hours after Gov. Mitch Daniels ® signed Indiana's contemptuous bill, tens of thousands of Hoosier workers came together in solidarity to march from the statehouse to Super Bowl village. Construction workers and teachers, grocery clerks and truck drivers chanted "Remember November," vowing to take back the state door by door, neighborhood by neighborhood.
This year, as in Indiana, we will stand together for jobs and for economic freedom across the nation. We'll congregate in the public square. And on Election Day, we'll march to the ballot box to cast our votes for economic, social and political justice.
Arlene Holt Baker is AFL-CIO Executive Vice President.
Reposted from the AFL-CIO NOW blog.
Photo: At the Hyatt Regency in downtown Indianapolis. UNITEHERE