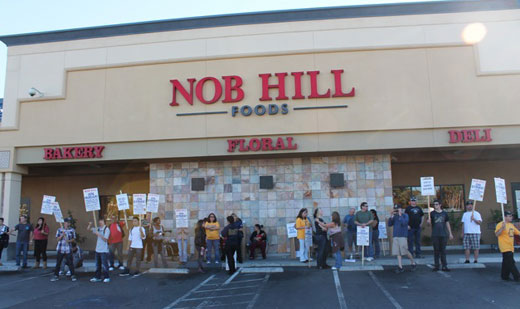 Thousands of Bay Area workers at Raley's and Nob HIll supermarkets, members of United Food and Commercial Workers (UFCW) Local 5, went out on strike on November 4 in response to the company's attempt to force a take-away contract.
Raley's demanded that the workers accept a contract slashing health benefits for current workers and retirees, freezing wages for two years, and eliminating premium pay for Sundays and holidays. When the union refused, Raley's imposed the new terms, forcing the workers out on strike
"We're not fighting for any extra – just to keep what we have," said Samantha, a worker at the Nob Hill store in Campbell. She was hardly the only one ready to fight; there were at least 30 pickets at the store, and many had been there the entire day.
The strikers are getting plenty of support from the community. When this reporter visited the Campbell store, only a trickle of customers were going through the picket line, and passing motorists honked their horns or flashed thumbs up to show their solidarity. The pickets succeeded in convincing a number of customers planning to shop to take their business elsewhere.
Ninety of the 120 Raley's, Nob Hill, and Beverly markets in Northern California and Nevada are involved in the strike. The company claims that competition from nonunion stories is forcing the cuts, but according to strikers it has refused to back up these claims with any figures.
Photo: Henry Millstein/PW