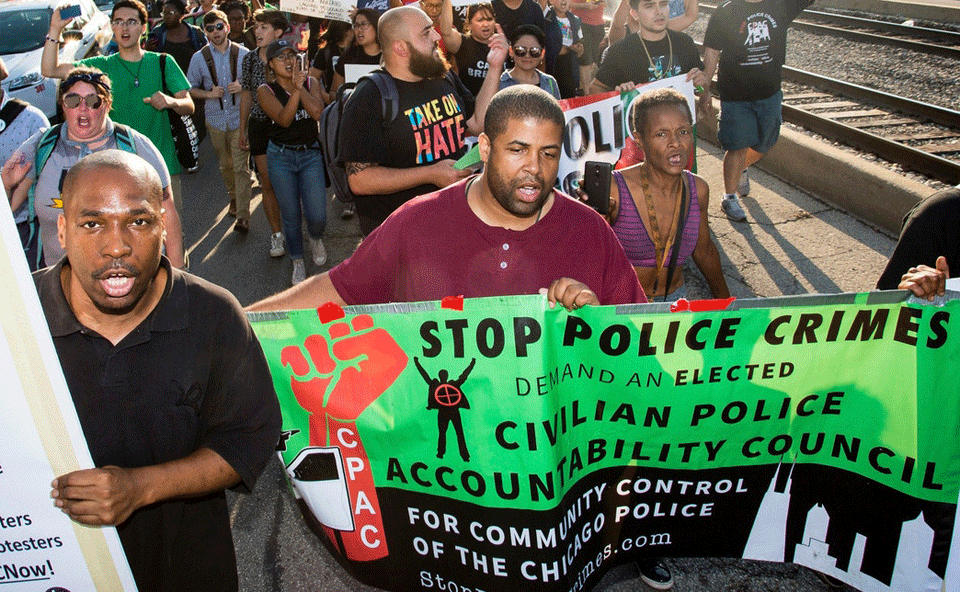 CHICAGO—This city is the national epicenter of police torture of African-American men. So, it's not surprising tens of thousands have taken to the streets following the police execution of George Floyd.
"The wounds run deep here. Many protests make this an uprising," Jazmine Salas, 28, co-chair of the Chicago Alliance Against Racist and Political Repression (CAARPR), told People's World. "People's general frustration has been building, and people want action."
The CAARPR has initiated several of the most massive demonstrations and car caravans surrounding Cook County jail, and in neighborhoods and downtown.
Chicago police have a long history of violence against the African-American and Latinx communities. Between 1972-1991, hundreds of African-American and Latinx men, including teenagers, were brutally tortured into making false confessions by Chicago Police Lieutenant Jon Burge and officers under his command.
Some of those men are still in prison for crimes they didn't commit. The battle continues for their release and justice for all the torture survivors, including Gerald Reed, currently serving a life sentence.
Chicago police are also responsible for a long list of murders of unarmed Black men, including the horrifying execution of Laquan McDonald in 2014. McDonald's shooting, captured on video, led to a federal consent decree, and oversight of the CPD beginning in 2019. Between 2004 and 2016, the city paid a staggering $662 million in restitution for police crimes.
Support for divesting
Continuous grassroots organizing led by the CAARPR, Southsiders Organized for Unity and Liberation, Black Lives Matter, and others have built strong support for divesting or "defunding" the police budget and democratic community control over the CPD.
The CAARPR has championed an ordinance called the Civilian Police Accountability Council (CPAC), which is on the cusp of gaining majority support in the city council. Alderman Carlos Ramirez-Rosa initially introduced CPAC in 2016, and an updated version addressing some legal concerns last year.
The CPAC ordinance creates a citywide democratically elected council with authority to hire and fire the police superintendent, set police policy, and negotiate collective bargaining agreements. CPAC would also have the power to investigate, subpoena, and discipline officers accused of committing criminal conduct, including firing them.
The 2019 elections "were haunted by the ghost of Laquan McDonald," said Salas. "82 aldermanic candidates who supported CPAC ran in that election. That's why Rahm Emanuel didn't run, and why so many supported CPAC."
Then Cook County State's Attorney Anita Alvarez, seen as complicit in covering up police crimes, was defeated in the 2018 primary by Kim Foxx. Lori Lightfoot was elected mayor in 2019 substantially on the vow of police reform.
"Alderman support has grown from 8 in 2018 to 19 in 2020. We have been building a base and telling people to call their aldermen and support CPAC," said Salas. CAARPR estimates 60-100,000 city residents support CPAC. The Chicago Teachers Union and SEIU Local 73 also support CPAC.
Since Floyd's death, support has surged. 40th Ward Alderman Andre Vasquez has received 10,000 emails demanding CPAC, with a similar outpouring in other wards.
"I think CPAC is the most transformative of the legislation being presented in regards to police accountability," Vasquez told People's World. "I am also supportive of GAPA (Grassroots Alliance for Police Accountability). It does a tremendous job of establishing a district-level structure to report and address incidents."
Some are critical
Some are critical of the slogan "defund the police" because they feel it obscures the essence of the idea and alienates potential allies, including those who fear policing will end overnight.
"Defunding the police" is a set of policies that reinvent public safety with a public health approach. "(It) means shrinking the scope of police responsibilities and shifting most of what government does to keep us safe to entities that are better equipped to meet that need," says Christy Lopez, an expert on police reform at Georgetown University.
Over 40% of Chicago's city budget goes to policing as a consequence of criminalizing social problems that appropriate experts and resources could otherwise address.
A public health approach decriminalizes poverty, homelessness, addiction, and mental health, and sees public safety rooted in building just communities around jobs at living wages, affordable housing, access to health care, mental health and addiction treatment, anti-domestic violence and violence prevention programs, and education.
"We are also looking at divesting from the police budget, taking CPD out of Chicago Public Schools, and demilitarizing the police," said Vasquez. "I'm personally interested in the kettling that occurred, which I believe added to the tension the first day of protests downtown."
Police arrested over 1,000 protesters during the demonstrations. Many were trapped when the police raised bridges over the Chicago River and cut off transit service.
"We spend $1.5 billion more on police than public health, so there's a clear problem of priorities," he said. "The people of Chicago want real police accountability and investment in proactive public safety measures instead of reactive ones."
But according to Salas, there is no consensus on how to achieve a reallocation of funds. Many organizations are involved in the abolition movement. Some want to divest wholly and immediately, others just a bit. To Salas, it's a slogan without a single program.
"We believe the strategy to get there is CPAC. We are working to defund the CPD and institute CPAC together," said Salas. "We need to impose a code of conduct as we work to defund the police. The challenge with defunding is who is in power and how they will carry it out or if they will carry it out."
In response to the uprising, many city governments are taking different paths to reform while House Democrats are proposing steps to restrict the use of force and lifting "qualified immunity." But CAARPR believes the process, and end goal of abolition, cannot be left to elected officials alone, who are also under enormous pressure from the police federations.
"In a society racked by class struggle and the struggles for national liberation the police are not just crime fighters, they are defenders of the status quo devoted to maintaining law and order for the powers that be," said Frank Chapman, executive director of the National Alliance Against Racist and Political Repression.
This makes democratic community control of the police critical. "If we are in control of the process of reform, based on people empowerment, then we can defund the police consistent with the democratic demands of our movement," said Chapman.
Lightfoot rejects divestment of police and the democratic control that CPAC offers. Instead, she presented a 90-day reform plan to the city council on June 17. In addition to an already existing task force considering changes to the police use of force policy, the plan calls for more police training in the history of racism in Chicago neighborhoods, crisis management, and de-escalation.
Over 1,000 protesters, including torture survivors, and a car caravan showed up to oppose Lightfoot's plan and demand CPAC. "Her actions go against what the people want. We've had task forces before, and their recommendations never get implemented," said Salas.
With the 2020 elections looming, Salas sees no contradiction in day-to-day grassroots work to pass CPAC, protest, and mobilizing voters for November. "We were very involved in 2019 local elections and see the importance of getting rid of Trump in 2020," said Salas. "Elections make a difference."