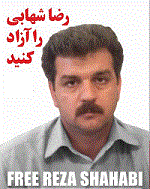 A trade unionist imprisoned since June 2010 by the Iranian authorities is now into his second week of hunger strike to protest against mistreatment by prison officials in Tehran.
Reza Shahabi, treasurer and executive board member of the Tehran and Suburbs Bus Company trade union, went on hunger strike on December 17, 2012, to protest mistreatment by jail guards as well as prevention of medical treatment for him by the judicial authorities. Shahabi last went on hunger strike two years ago, protesting his imprisonment.
Shahabi, who had undergone major surgery on his neck, was deemed by doctors to be in need of at least "two months rest at home." Doctors stated that he was "incapable of withstanding any further punishment," but he was nevertheless sent back to Ward 350 of the notorious Evin prison in Tehran on August 14, 2012. Since then, his health has deteriorated significantly.
In addition, Shahabi has had to endure verbal abuse and physical intimidation from his jail guards. Shahabi was taken to the hospital on December 15, but the jail guard accompanying him refused to allow him to be properly examined and forced Shahabi, with threats of beating and assault, to go back to prison.
As a result of such treatment Shahabi has announced that he will refuse to take his medication or eat until he is allowed to be transferred to a hospital outside prison for complete treatment.
Committee for Defense of the Iranian People's Right (CODIR) Assistant General Secretary Jamshid Ahmadi,condemned the ongoing persecution of Shahabi, in particular, and the members of the Tehran and Suburbs Bus Company trade union and other Iranian trade unionists in general.
"Reza Shahabi's health deteriorated significantly after severe beatings and mistreatment following his arrest", stated Ahmadi. "The authorities of the Islamic Republic of Iran are directly responsible for any consequences resulting from the continued imprisonment and mistreatment of Reza Shahabi. The Tehran and Suburbs Bus Company has more than 17,000 employees, of which a significant number are members of the trade union. All executive board members of this union have been persecuted, dismissed and many jailed since the formation of the union in 2005. This systematic intimidation of workers must be highlighted and stopped."
Members of the union have been active recently in protests against unpaid wages and the unequal treatment of employees, and are demanding the dismissal of the Tehran Bus Company managing director. Many of the union's members, including its president Mansour Osanloo and deputy president Ibrahim Madadi, have spent years in prison for defending the rights of the workers of the company.
The International Transport Workers Federation, to which Shahabi's union is affiliated, has called for his immediate release.
Although several Iranian trade unionists, including some from Shahabi's union, have been freed after international trade union campaigns, he remains in jail and had his six-year sentence confirmed in April 2012. Over the summer, Amnesty International added their weight by focusing on the cases of Reza Shahabi and three other jailed Iranian trade unionists with a postcard protest in the UK and Turkey.
CODIR, as a matter of urgency, calls for
* the immediate release of all political prisoners in Iran;
* an immediate end to all manifestations of abuse of human rights;
* the Iranian authorities to agree to implement the terms of ILO conventions 87 and 98 guaranteeing trade union rights and freedoms and the right to belong to a trade union and be active within it'
* human rights and trades union organizations to protest against the arbitrary actions of the Iranian government; and
*human rights and trades union organizations to highlight the case of Reza Shahabi in particular and to demand his immediate release.