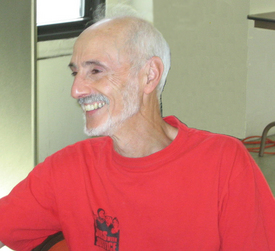 NEW YORK — "I gave a week's salary," Gabe Falsetta said, referring to his contribution to the People's Weekly World fund drive. "I like to go to the theater as often as I can, but I feel like, if I have to skip a couple of plays, it's well worth it."
Falsetta, who works as office manager at the national headquarters of the Communist Party USA, donated $500 to what he describes as his favorite newspaper.
"I've been a volunteer for 20-plus years," he said. "I went to demonstrations, distributed the paper, even back when it was still the Daily World. I volunteered as a proofreader; I did copy-editing."
The first time he saw the paper was at union meetings held at Stuyvesant High School.
Falsetta said, "I come from a trade union background and was in the typographical union for about 15 years as a typesetter." When the industry changed, he had to make "many adjustments along the way."
Nonetheless, throughout his career as a lithographer he was a committed union activist. "I ran for union office," he said, "and was active in the union."
Falsetta distributes the paper twice a week: once to bus drivers in Jamaica, Queens, and once in a subway station in Forest Hills, Queens. He sees no break in continuity between his labor activism and his volunteer work distributing the PWW.
When distributing the PWW, "I say, 'This is a union paper. It's all about labor, locally and internationally.'"
He is almost always happy with their reaction. "When they read the paper, they'll appreciate the paper. They're not going to get that news anywhere else. Really that's true. It's the real news, as far as we working people are concerned. I find a lot of self-satisfaction doing these distributions.
"I distribute the paper and I see the reaction that I get when I get it out," he said. "I get comments — too many comments to comment on. Last week a guard came up to me and said, 'This is the real news. Thank you.'"
Falsetta says that he makes deliveries to Transport Workers Union Local 100 members. "They're union members, probably the most militant union in our city. The paper gives them good insight on other struggles, so that they can see the position they take against, for instance, Bloomberg and Pataki, that there are unions out there struggling on the same issues — pensions, health care. TWU really drew the line in the sand. They really gave hope to other public employees. I think they helped DC37 achieve a decent contract."
Falsetta believes that the People's Weekly World is not just another newspaper, or not even just a newspaper that reports the truth, but a tool to help organize people.
"Without a paper like the PWW, there's nothing out there. The paper plays a gigantic role in helping to build the labor movement. It's going to help to build a movement against the ultra-right and win some very important things that people need, whether it's health care bills in Congress, card-check union recognition. The paper helps to bring that to the public. It makes people aware, people who then talk, get together … that helps build the movement towards defeating the right in the elections, and towards a better-working society."
"I challenge everyone to give as much as they can," Falsetta said. "A week's pay isn't too much for this paper."
dmargolis@pww.org