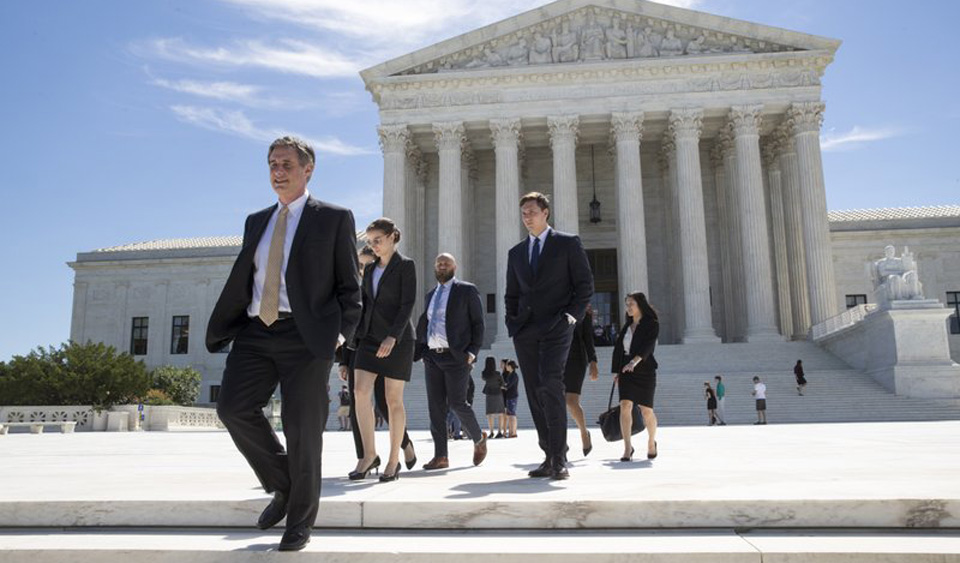 The Supreme Court handed a questionable victory to President Trump today by allowing his 90-day ban on travelers from seven Muslim majority countries and all refugees to go into effect for people with no direct connections to the United States.
The court, which narrowed down the lower court rulings that had completley blocked the March 6 executive order, said it would hear arguments on one of Trump's top priority policies in his first months as president, during the court's October term.
The justices granted parts of the Administration's emergency request to restore the travel ban immediately while the legal battle continues. Three of the court's conservative members, including Trump appointee Neil Gorsuch, said they would have granted the order in full.
"I fear that the court's remedy will prove unworkable," Justice Thomas wrote. "Today's compromise will burden executive officials with the task of deciding — on peril of contempt — whether individuals from the six affected nations who wish to enter the United States have a sufficient connection to a person or entity in this country."
Justice Clarence Thomas was joined by Justice Samuel Alito, Jr., Neil Gorsuch in the written dissent of the court's ruling.
The court said that the travel ban will go into effect,"with respect to foreign nationals who lack any bona fide relationships with a person or entity in the United States." While leaving lower-court injunctions against the ban in place, only in regard to the challengers of the ban and others in similar positions, when it involves people in the U.S. who have relationships with foreign nationals abroad, and whose rights might be violated if those travelers were barred from entry.
In the written opinion, the court said that the lower-court injunctions were too broad to also include barring enforcement against foreign travelers with no direct connection to the United States.
The court also reinstated the 120-day ban on all refugees entering the United States, allowing the government to bar any claimant refugees who do not have a "bona fide relationship" with an individual citizen or entity.
"Denying entry to such a foreign national does not burden any American party by reason of that party's relationship with the foreign national," the court said.
The March 6 travel ban order called for a 90-day ban on travelers from Libya, Iran, Somalia, Sudan, Syria, and Yemen, and a 120-day ban on all refugees from entering the U.S.
Trump signed the order as a replacement to the January 27 travel ban order that was also blocked by federal courts, calling the March 6 order "a watered down, politically correct" version while keeping his nationalist "America First" message and views intact.
You can read the Supreme Court's opinion here.