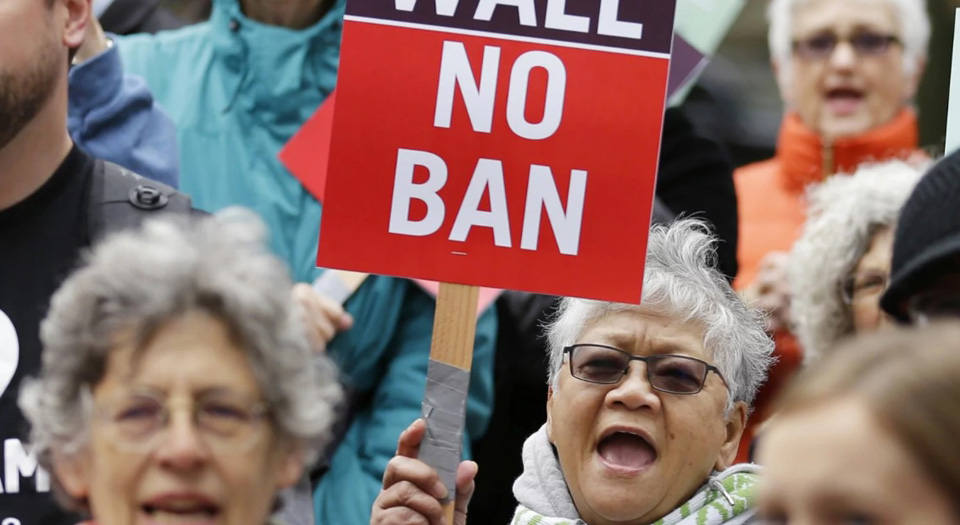 The U.S. Supreme Court Tuesday night dismissed one of the legal challenges to Trump's travel ban executive order. The legal battle against the administration's effort to ban certain immigrants and refugees from entering the country will now need to start over.
The high court's order is a victory for the Trump administration, which asked the court to dismiss the case after the president signed a new travel ban executive order September 24, and a disastrous blow for immigrants and refugees.
The one paragraph order said that because Trump's executive order "expired by its own terms, the appeal no longer presents a live case or controversy."
Justice Sotomayor dissented, saying that she would have dismissed the case and allowed the Fourth Circuit Court of Appeals decision to remain on the books. The court remanded the case to the appeals court with instructions to dismiss.
The state of Hawaii and the ACLU, both challengers to Trump's previous travel ban and current order, told the court it would be unfair to dismiss the lower courts' decisions because of government actions.
"Any mootness would be entirely the consequence of the government's voluntary actions—in managing the timing of the bans, in declining to seek a swift hearing on the merits, and in rebottling its old ban in a new order," wrote Washington lawyer Neal K. Katyal, representing Hawaii in State of Hawaii, et al. v. Trump.
The order did not mention a second ruling by a panel of the U.S. Circuit Court of Appeals for the 9th Circuit that covered a temporary ban on refugees. That executive order expires Oct. 24, and it is likely the Supreme Court will also vacate that ruling.
Trump signed new travel restrictions on September 22 for individuals from Chad, Iran, Libya, North Korea, Somalia, Syria, Venezuela, and Yemen as a replacement to a central portion of his controversial travel ban signed earlier this year.
For North Korea and Syria, Trump's order blocks immigrants wanting to relocate to the U.S. and non-immigrants from visiting in some capacities.
For Iran, it blocks both immigrants and non-immigrants, exempting students and those participating in a cultural exchange.
The new order will take full effect October 18.