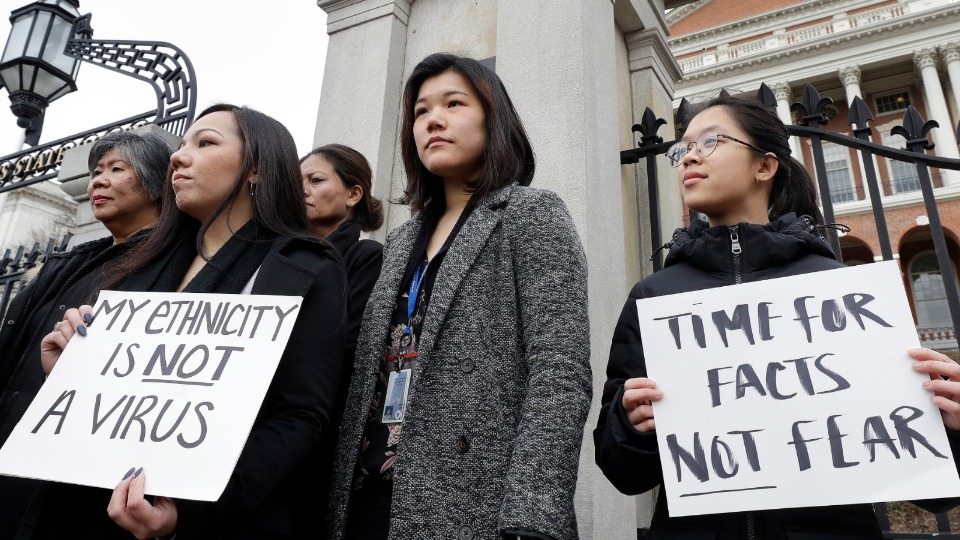 OAKLAND, Calif.—As the start of the Lunar New Year approached last week, concern was growing over a surge in hate crimes being experienced by Asian Americans in the San Francisco Bay Area, including several victims who were over 60 years of age.
One attack last month in San Francisco was widely publicized when a local TV station aired video footage showing a young man violently shoving an 84-year-old Thai man, Vicha Ratanapakdee, to the ground as he was taking a morning walk. Ratanapakdee later died.
Another widely-distributed video showed a 91-year-old man being pushed from behind and falling face-down into the sidewalk in Oakland's Chinatown.
Other incidents have involved verbal and physical attacks, spitting and coughing, and racist slurs.
While racist prejudice and various types of attacks against Asian Americans have a long history in the United States, after the start of the COVID-19 pandemic, they were also clearly encouraged by the repeated anti-Asian rhetoric and racist misnamings of the COVID-19 virus—"China Virus" and "Kung Flu," among others—that came from former President Donald Trump and his supporters.
The Stop AAPI Hate reporting center, established in response to the rise in xenophobia and bigotry during the pandemic, said on Feb. 9 that since its founding on March 19, 2020, it has documented over 2,808 first-hand accounts of anti-Asian hate from 47 states and the District of Columbia.
The center said physical assaults including coughing/spitting accounted for just under 9%, verbal harassment made up over 70% and shunning or avoidance comprised over 21%. Youth under 20 years old and seniors over 60 were the most targeted age groups. Nearly 44% of incidents had occurred in California, with New York, Washington, and Illinois coming in a distant second, third, and fourth.
The reporting center's co-founders, Manjusha Kulkarni of the Asian Pacific Policy and Planning Council, Cynthia Choi of Chinese for Affirmative Action, and Russell Jeung, Professor of Asian American Studies at San Francisco State University, called the incidents "stark reminders" of the need for urgent action to protect Asian Americans from hate, discrimination, and violence. They urged "businesses, the government, and community partners" to provide immediate support to victims and families affected by such incidents, "and work together to create long-lasting solutions that empower our communities with resources, support, and education."
Responses from organizations, legislators, and other elected officials have highlighted the need for communities impacted by white supremacy and structural racism to work together to build community-based solutions.
Last week, California Asian Pacific Islander Legislative Caucus' leaders state Sen. Richard Pan, D-Sacramento and Assemblymember Evan Low, D-San Jose, condemned the hate crimes. Noting that since the pandemic started, "Asian and Pacific Islander Americans have felt the brunt of the previous president's racist rhetoric," they expressed appreciation for President Joe Biden's executive order calling for greater protections for the Asian Pacific Islander community, and for the people and organizations standing in solidarity with the API community.
"But it is not enough to simply disavow racism, xenophobia, and violence," they said. "This dark chapter in American history is a moment when accountability and action are required to bring about justice and peace."
That emphasis was also reflected in the statement issued by over 70 organizations largely but not entirely from the Asian Pacific Islander community calling for investment in "long-term community-centered solutions that create spaces for cross-racial healing," addressing underlying causes for conflict, and building conditions for everyone to thrive.
"We believe that our strength is in unity, not division, and that our histories and futures are intertwined," the organizations said. "That is why we are committed to working with Black, Indigenous, Latinx, and Pacific Islander communities for a long-term shared vision and solutions to stop the violence in all our communities."
In the East Bay, Alameda County Supervisor Keith Carson, whose district includes parts of Oakland, urged community members to remember that "our diversity is our strength," and said working together for solutions will more accurately address the needs of the wide range of ethnic communities his district encompasses.
"While accountability is needed," Carson emphasized, "we must also recognize that violence affects each one of us and all of our communities. In generating solutions, we must condemn sentiments of anti-Blackness." He called on all the district's ethnic communities to "push back against the call for over-policing of our communities as the answer," and said he is inspired, "in our current time … to see new connections being formed across communities."
"Love our People, Heal our Communities" was the theme of a Lunar New Year celebration led by the Asian Pacific Environmental Network and other community organizations, that on Feb. 13 drew a multiracial crowd of hundreds to Madison Park, in the heart of Oakland's Chinatown. A long list of speakers carried forward the elected officials' emphasis on building community-based solutions.
Among them was nonprofit affordable housing developer Ener Chiu of East Bay Asian Local Development Corporation (EBALDC), who urged being "specific and precise" about identifying who is responsible for harm and determining how those responsible can make restitution to the ones they have harmed. But, he said, scapegoating groups is not only wrong but also makes communities less safe.
Chiu, and other speakers, drew attention to the great value of Chinatown's "community ambassador" programs where community members circulate through the area, building relationships with and between merchants, residents, unhoused people, and visitors.
Zach Norris, who leads the Ella Baker Center for Human Rights, called on community members to "hold each other accountable, hold each other in community … That's what restorative justice, transformative justice, is about."
Oakland City Council President Nikki Fortunato Bas, whose district includes Chinatown, participated together with fellow Councilmembers Carroll Fife, Sheng Thao, and Dan Kalb. Highlighting her commitment to building the community ambassador program, Bas told the crowd, "Let's build public safety together, with community solutions.
"We are going to demand the resources, the investments we need," Bas said, "and we are going to stand in solidarity with other BIPOC communities because we know our liberation is not only about us, it's about our Black, Indigenous, Latinx communities, our immigrant and refugee communities, our LGBTQ communities. We are not about fighting each other, we are about fighting the systems that are broken and not serving us."