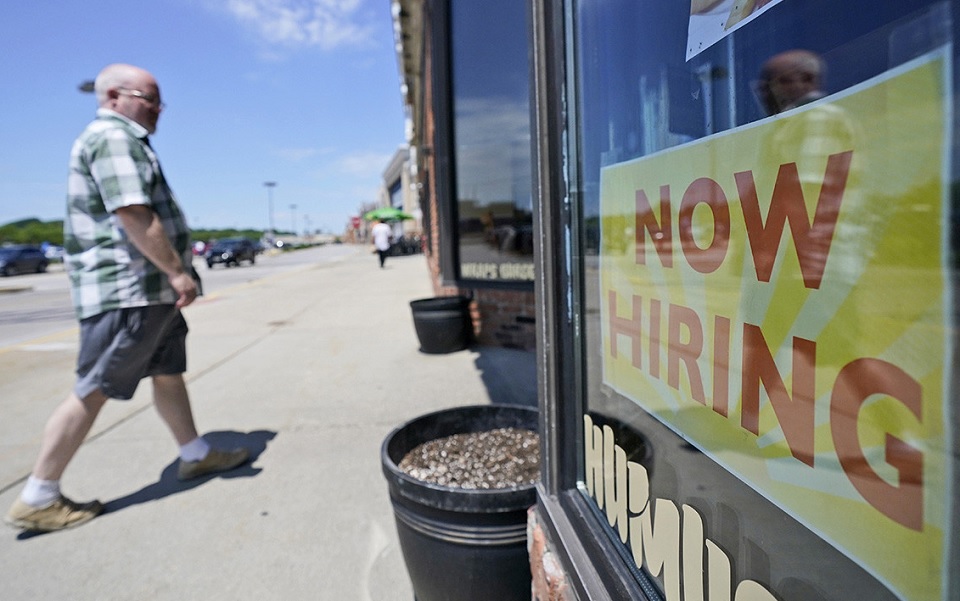 WASHINGTON (PAI)—Surprising Wall Street's stock casino, the U.S. economy claimed to add 517,000 jobs in January, the Bureau of Labor Statistics said. Even governments reported adding 74,000 workers, including 52,000 in state and local schools. BLS said 35,000 of them were University of California system unionized workers who ratified new contracts, after—though BLS didn't say so—they were forced to strike.
The jobs jump and prior revisions produced more good news. Unemployment declined to 3.4%, the lowest point since 1969 when draftees taken off the job market for the Indochina War depressed unemployment rates and numbers.
Some 5.694 million people were jobless in January, the BLS reported, 28,000 fewer than in December. The numbers are not directly comparable. Between the two months, the agency changes its population survey to account for demographic shifts and job category changes.
The AFL-CIO had a positive take on the jobs report.
"In today's @BLS_gov #JobsReport: 517k jobs added in Jan. 2023, broad increases in jobs across industries, inflation slowing faster than wage growth, historic low unemployment rate of 3.4%. Bottom line: A blowout #JobsReport!" it tweeted.
The big gains disoriented Wall Street's players, who count on the Federal Reserve to dampen inflation by raising interest rates, which in turn affect your credit card rates, home loans, and other costs. Fed rate hikes are supposed to lead to job losses and slower wage growth, too.
Well, wage growth—at a 4.4% annual rate in January—was still below inflation, which is declining. But as for the Fed's actions throwing people out of jobs…whoops.
The financiers responded on Feb. 3 with mixed gains and losses. When workers lose jobs, the market often rises. Fewer jobs mean less pay for workers and more profits for firms and financiers.
Factories said they added 19,000 jobs in January, rising to 12.999 million, the separate survey of businesses reported. A 6,900-job gain at food processing factories offset a 6,500-job loss at auto and parts plants.
Construction companies claimed to add 25,000 jobs in January, to 7.884 million. Of those, 60% were with non-residential specialty trade contractors.
The one semi-negative number in the report was that the biggest job growth came in the lowest-paying sector, leisure and hospitality. Owners claimed to add 113,400 workers, with 99,600 of those in bars and restaurants alone. But they still don't pay the workers enough: $535.12/week in January. The next lowest payers were in retail trade, at $712.96/week.