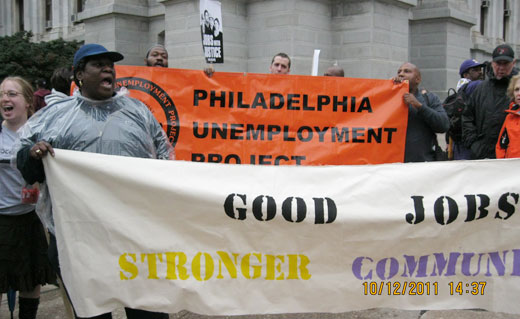 Lack of demand, not government regulation, is the big problem with the economy.
People who are unemployed or underemployed, those who've lost their homes in foreclosure – even those who have a job today but worry about tomorrow – all have greatly cut back on their spending.
If there were any doubt, this is confirmed by findings from the San Francisco Federal Reserve Bank that since the recession began in 2007 we spent $7,300 less per person (in inflation adjusted dollars).
In the Chicago neighborhood where I live, the main shopping streets have more closed-up storefronts than open ones. The resale shops and dollar stores do a brisk business. And I frequently see "recyclers" picking through the trash containers for cans to sell for cash at the scrap metal yards.
Having less money to spend results in less spending. Less spending means some small businesses won't make it at all, and larger, more substantial businesses will make cutbacks. It all ends up as more people out of work.
Yet beholden-to-billionaires, right-wing Republicans blame everything on government regulations, either existing regulations on business or proposed regulations, such as those on greenhouse gas emissions.
It's always good to have someone in authority confirm what we have long suspected. On Oct. 25, Dr. Jan Eberly, Assistant Treasury Secretary for Economic Policy, presented hard data showing lack of demand for their products, not government regulation, is what keeps businesses from creating jobs:
If regulatory uncertainty was a major impediment to hiring right now, we would expect to see indications of this in one or more of the following: business profits; trends in the workforce, capacity utilization, and business investment; differences between industries undergoing significant regulatory changes and those that are not; differences between the United States and other countries that are not undergoing the same changes; or surveys of business owners and economists…none of these data support the claim that regulatory uncertainty is holding back hiring.
The full report, including graphs and references, is here.
Even the Wall Street Journal, in a survey of economists, found that about two thirds of the respondents agreed that a lack of demand, not government policy, was the reason for not hiring.
These findings bring up two immediate issues: getting the millions of unemployed in this country back to work, and fighting for important, beneficial regulations while opposing wanton deregulation.
Across the U.S. today, thousands and thousands are rallying and marching, visiting elected officials and testifying at hearings and town halls. Participants include students and retirees, union workers and jobless, first responders and teachers, farmers and small business owners, immigrants and DREAMers. This impatient army can succeed in getting the American Jobs Act passed and getting people back to work now.