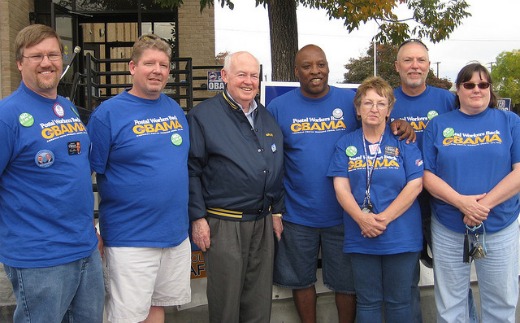 WASHINGTON (PAI)-Retired AFL-CIO President John Sweeney, one of the Catholic Church's most prominent laymen, along with a top U.S. bishop on social justice issues, are challenging their church to live up to its own ideals and become much more active for workers' rights.
In closing speeches on May 3 at a 2-day conference on the relationship between the church and labor, sponsored by the Catholic University of America, Sweeney and Bishop Stephen E. Blaire of Stockton, Calif., both laid out the condition of workers in the U.S.: Declining incomes, cutbacks in benefits and rights under siege by politicians.
Then they challenged their church, which honored the 120th anniversary of the first papal encyclical to speak out strongly for workers' rights, to do something about it.
The statements by Sweeney and Blaire, chair of the U.S. Conference of Catholic Bishops' Committee on Domestic Justice and Human Development, are important: The labor movement is disproportionately Catholic and Jewish. Immigrants – most of them Catholics from Latin America and Asia – are its obvious target for new members.
Yet the teachings of Catholic Social Thought, particularly the workers' rights teachings with their outright endorsement of unions, are notably absent from Catholic schools and universities. And speakers said the church issues pro-worker statements in the U.S., including one the week before, but does not publicize them.
Further, prominent Catholic institutions feel free to ignore Catholic teachings and act like other employers in relations with their workers – with no penalty. Catholic legislators and governors also feel free to ignore church teachings, Sweeney said.
Yet the church has stood up for workers, from that first encyclical by Pope Leo XIII to recent statements by Pope Benedict XVI, said Cardinal Peter Turkson, president of the papal council on social justice. But Turkson admitted the church's pro-labor message, in the past, was often buried by its Europe-centered stand against socialism.
Sweeney and Blaire responded that the U.S. church as an institution hasn't been prominent enough, verbal enough or done enough for workers. Other speakers pointed out individual bishops, cardinals and priests have spoken out for workers. They cited present Cardinal Roger Mahony of Los Angeles, and the late Msgr. George Higgins and the late Cardinals Joseph Bernardin and Albert Stritch, all of Chicago.
And the church itself is divided on workers' rights, speakers said. Blaire cited a recent example: The Archbishop of Milwaukee strongly backed Wisconsin's public workers' rights to collective bargaining. Blaire backed him up with another public statement from the U.S. Conference of Bishops, but several local Wisconsin bishops wanted the church to stay neutral as GOP Gov. Scott Walker warred on workers.
Other speakers noted the church has rocky relations with some unions on other social issues. That attitude in turn pushes the unions away from the church. The infrequently mentioned issue: Conflict between unions that are pro-choice and the church's right to life position, which defines its "social justice" in many unionists' minds.
Sweeney was even sharper about the church's low profile in labor's fight.
"The impact of unrestrained capitalism and uncontrolled free trade has changed the relationship between owner and worker, to the detriment of the worker," he stated. "They are struggling with a system that has transferred wealth and power from those who have a little to those who have much.
"For 30 years, the anti-union Right Wing has been waging war on workers," he declared, reeling off a list of ills workers face, from Walker's destruction of Wisconsin workers' rights to the stagnation of workers' incomes and decay of their benefits.
If that war succeeds, "the effect will be profound," Sweeney warned. "Yet you hardly hear mention of Catholic Social Thought" in discussion of what's happening to workers.
"We need even more from the American church. If the American labor movement is to survive, we need to create a louder clamor" from the church, he declared. The church needs a louder voice "to confront the greed of the giant corporations that have become the ruling class."
That voice must reach down to the laity, by teaching the Catholic stand for workers' rights, the dignity of people and their work down to every diocese, he said.
Conferees generally agreed with Sweeney's and Blaires' comments about Catholic social thought, its pro-union principles, potential impact, and calls for action.
But an information brochure at the conference symbolizes the problem Sweeney, Blaire and others face in trying to get the church more active for workers. It was the text of a bishops' statement, worked out two years ago with a committee of prominent laymen – including Sweeney – about how U.S. Catholic hospitals, schools and other institutions should treat their workers.
The statement demanded neutrality, lack of lying in organizing campaigns and recognition of unions, among other things. And it had no enforcement power.
Photo: John Sweeney, third from left, stands with union members, October 2008. (AFL-CIO/CC)