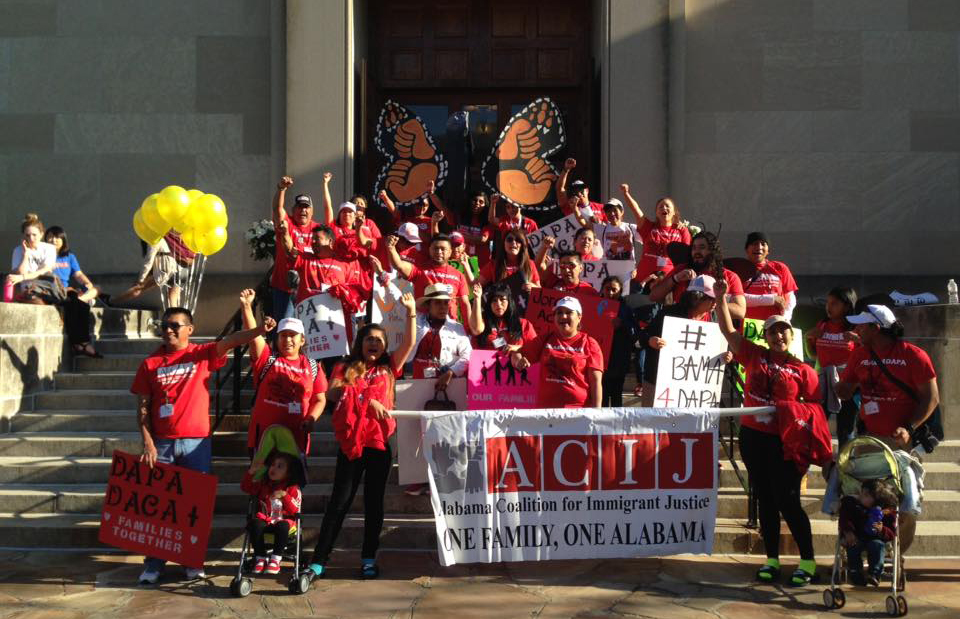 A People's Summit panel discussing problems of rural development included a discussion of immigrant justice with Vivianna Rodriguez of the Alabama Coalition for Immigrant Justice (ACIJ) speaking to the issues facing immigrant Alabamians.
Many rural workers and small family farmers throughout the U.S. are struggling with the havoc corporate-driven agriculture and fossil fuels are wreaking on their communities. For some, simply being able to work legally and obtain a driver's license are major barriers to living a secure life or battling corporate power directly, and many business owners are affected as well.
Rodriguez is the youth representative to ACIJ's steering committee. She also works as a paralegal with an immigration attorney. When her mother was detained and nearly deported for an alleged unpaid tail light ticket the day before her high school graduation, it became the impetus for dedicating her life to immigration justice. "My friend thought I was crying because I was graduating, and little did they know that my mom was arrested and in jail right beside the civic center where we were graduating," she told People's World. "The system definitely stole that memory from me."
Present immigration policies have robbed parents of being parents, and young people suffer as a result. Without legal status, parents have to put their bank accounts, housing, cars, and other financial and legal titles in the names of their documented children. As a result, children carry the burden of being legal anchors for their families. "When I was 7, 8 years old, I had to translate for my mom," and "had to know the balance on the checkbook." In response, the Youth Alliance for Immigrant Rights (YAIR) was formed as an independent youth wing of ACIJ to help deal with the special challenges second generation youth face. Rodriguez is one of the original members. YAIR also helps youth collectively navigate through college logistics like application fees, FAFSA, finding scholarships for minorities, and tutoring. "I didn't know any [of this stuff]," she said. "It would have changed my tuition, GPA, and how much debt I'm in today."
"Founded in 2006, ACIJ was galvanized after the passage of HB56," the "harshest anti-immigrant law in the nation," Rodriguez told the People's Summit assembly. In addition to allowing police to racially profile immigrants for random documentation checks, it punished landlords, businesses, electric companies, and citizens who provided immigrant residents with housing, employment, services, or the use of their own name for legal purposes. "Within a week's time, immigrants were leaving everywhere, going anywhere but Alabama." The farmers' crops they had previously picked rotted in the fields, and large retailers like Walmart and Walgreens lost a large portion of their customer base. Rodriguez' younger sister left for school each morning worrying whether Mom would still be home in the evening.
In partnership with NAACP and other civil rights groups, ACIJ took their fight to the capital. The racial profiling was ruled unconstitutional, but those stopped for other reasons could still be deported if they didn't have papers. A letter from the local Black Lives Matter chapter initiated a push that resulted in the Birmingham city council unanimously declaring it a sanctuary city, the only city in Alabama to make such a resolution so far. The coalition continues to struggle to make the resolution real by getting the city to declare that local police will not work for ICE, and was backed with a June 13th action at Birmingham City Hall with the Adelante Alabama Worker Center.
A struggle also exists to shut down Etowah County Detention Center, one of the nations worst immigration jails where several people have died. Etowah is home to long term detainees all over the nation, including immigrants of Middle-Eastern, African, and European nations. Many are held because of diplomatic problems, and the prison charges people from countries such as Cuba, Laos, Vietnam, or Cambodia $40 a day to be locked in a building with mold, broken elevator buttons, a rat infestation, a tainted water supply, and food filled with maggots.
ACIJ has had some success working with police departments, particularly in Mobile county. Only two officers in the entire department speak Spanish. ACIJ assisted with translation and Spanish language services, getting a commitment that the precinct would not waste city resources holding people past the 48-hour window ICE has to respond. However, that promise was broken after real-estate mogul Donald Trump became president. Plans are in place to follow up with the Sheriff in Mobile regarding the reneged truce.
The more communities Trump attacked, the more the coalition grew to fight for "dignity, respect, and acknowledgment of being a human being," the chief unity points. "First he targeted Mexicans," said Rodriguez. "Once it hit the Muslim community, it was an eye-opener. Then it hit the LGBT community, and then he targeted women." People realized, "we can only fight him if we work together."
ACIJ's Alabama Vota campaign has brought immigrant and Latino communities into the political process, going to community events and knocking on doors to encourage second generation citizens to begin their voting tradition. Despite language barriers, immigrant residents have also begun attending city council meetings so that they cannot be ignored.
Battling racism also on the personal level, ACIJ held an exhibit May 27th at the Birmingham Civil Rights Institution where Rodriguez shared, along with ten other activists, how and why they got into activism. "People were crying, shaking their heads" hearing how, for immigrants, "a speeding ticket could become a deportation," the insecurities of not being able to use a bank account, of how "if your mother is on her death bed, you can't be there for them because if you go back you can never come back in." And it's not about feeling sympathy, but "seeing what they overcome every day," said Rodriguez. "Then you won't look at us as a threat anymore," but as people "just trying to make it in this world." Changing the perspective of even "1 person out of 500 is a victory," she added.
"Slowly but surely I think that change will come, and we will really end racism in the state and United States and get economic equality."