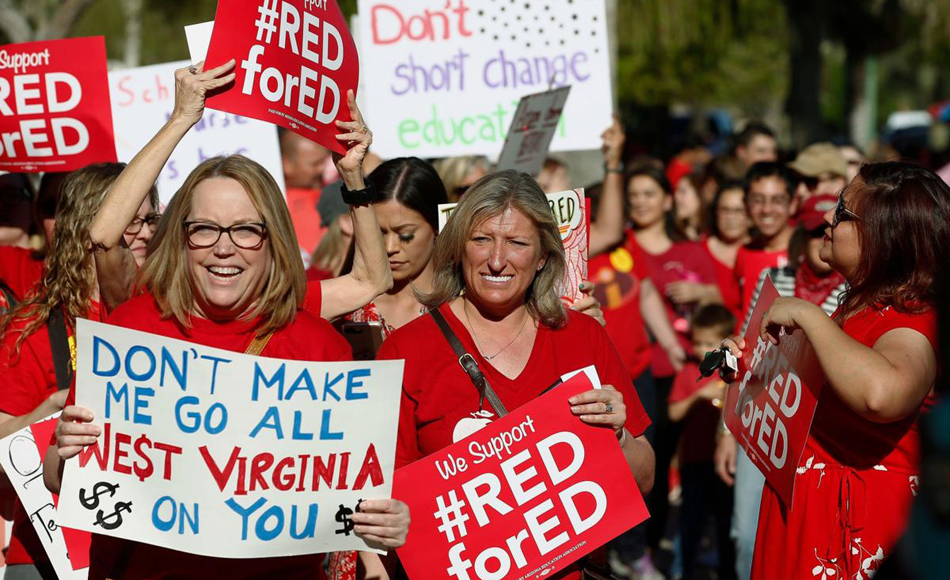 WASHINGTON—"Take me home, West Virginia!" – the Mountaineer State's song – joyously rang out as a large group of unionized teachers and school support staffers celebrated their successful nine-day strike for better schools, not just better pay, and the Eleanor Roosevelt Award they got for it on June 21.
That's because Jobs With Justice recognized the teachers – members of the American Federation of Teachers-West Virginia, the West Virginia Education Association, and the independent West Virginia School Support Professionals Association – as one of three honorees for championing labor's cause.
The teachers and staffers not only brought the house down with the singing, as the whole crowd joined in the chorus, but their strike touched off other mass actions by teachers in other so-called right to work states, campaigning for better schools, more funding and better conditions for their kids.
The Roosevelt Awards honors go to individuals and organizations who were outstanding champions of workers and workers' rights the prior year.
Besides the West Virginians, there were two other award winners. The Twin Cities' Centro de Trabajadores Unidos en Lucha won for their successful 6-year drive, including several one-day strikes and an 11-day hunger strike, to mobilize community and political support for paying retail janitors decent wages and giving them the right to organize.
The 500-plus did so with Service Employees Local 26 – and also got $5.6 million in back pay, plus decent working conditions. With CTUL's help, they became the first group of retail janitors to organize in the nation.
And Ed Smith, a Laborers Local 773 member, and chairman and CEO of ULLICO — also known as the Union Labor Life Insurance Company — was honored for the firm's funding of union-built and union worker-manned construction nationwide. The proceeds benefit ULLICO's investors: Unions, workers, and their pension funds.
The West Virginians stole the show, however, and not just with the sing-along. "You must do what you think you cannot do. Well, West Virginia educators have shown you can," WVEA President Dale Lee told the capacity crowd.
That included defying corporations and the GOP-dominated legislature and governor, who wanted to shift more health care costs to the teachers and staffers, cut their pensions and who hadn't given them a raise in a decade. The right-to-work state's legislature, for all practical purposes, sets teachers' and staffers' pay and benefits. It also banned their right to strike.
But with lousy conditions for students, outdated textbooks and declining pay – which led to a mass exodus of teachers to other states – the Mountaineer State's teachers struck anyway. They also flooded the state capitol building in Charleston with red-T-shirted teachers and community supporters.
Lisa Austin, a special education teacher in Charleston, said in an interview the movement was "a bottom-up campaign that started with a Facebook page in two or three counties in the southern end of the state, and one-day walkouts."
"We knew there was a movement coming, she added. "And then all three unions got on board." So when the strike votes finally came, approval was overwhelming statewide, Austin added.
The teachers also decided, in so many words, to put their students first. They pointed out students can't learn well without good and committed teachers and up-to-date materials and classrooms. But the kids weren't getting that because businesses, governors and legislators had slashed school spending in favor of tax cuts, Lee said.
"It wasn't just wages. It was the state-run health insurance. They (legislators) were digging into it and not just the teachers but every state employee felt the pinch," Austin explained.
But if the teachers had walked out without community support, she mused, the strike would have failed. They made sure they got the parents on board, and the kids, too.
That came through personal explanations, door-to-door walks and talks and, in a state where more than half of the kids get free or federally subsidized school lunches – an indication of poverty – ensuring local food banks, soup kitchens and other volunteer pantries provided meals.
"We had to make sure the kids could eat," Austin said.
"It could have gotten ugly, but the state superintendent of public education also spoke to other local superintendents and said 'We have to work together when this is over, so let's keep our heads.'" The superintendents backed the teachers, too.
The result was the 9-day strike, symbolized by an on-line map at the state Education Department. It colors counties blue if schools are open, red if they're closed, for snowstorms and the like.
During the strike, the entire map was red.
They also set off similar action in Kentucky, Oklahoma, Arizona, Colorado and North Carolina. "RedforEd" T-shirts became ubiquitous and the crowds in and around state capitol buildings were huge. The West Virginians ringed their capitol in Charleston, Austin said. "We focused on our immediate issues and we didn't realize how the rest of the nation was watching us," Lee said.
The teachers won, but they aren't done. Now they're pointing towards November's election and a chance to unseat anti-teacher, anti-worker lawmakers. Several already lost in the state primary, including one who got more votes than he did in his previous run, and still lost, Austin said. "The activists need to vote, and bring in their families and friends," she added.