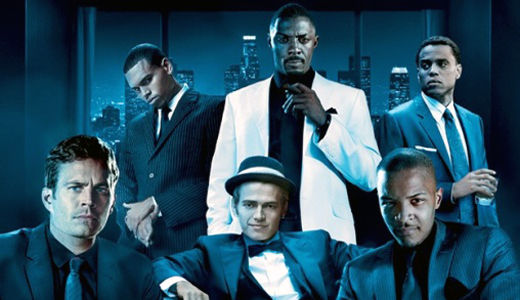 Movie Review
"Takers"
Directed by John Luessenhop
Starring Matt Dillon, Idris Elba, Marianne Jean-Baptiste and more
107 min., PG-13
"Get Low"
Directed by Aaron Schneider
Starring Robert Duvall, Sissy Spacek, Bill Murray and more
U.S./Germany/Poland
100 min., PG-13
"Takers" is a good heist movie with preposterous, extreme chase scenes, shoot-outs (some in slo-mo to sobbing violins) and even a few poignant moments. It's high on melodrama with the big plus of a superb cast, some stuck in two-line bit parts.
If you saw it you may have noticed, as I did, that there are some outstanding Black and Latino performers in the film and wondered, like I did, why they had to settle for a good film when they should have been in a really great film.
The plot in "Takers" blurs the line between good and evil. One of the bank robbers, played by the stunningly handsome Idris Elba, is trying desperately to help his coke-addicted sister (Marianne Jean-Baptiste gives it heart and soul) get through rehab. Two brothers (Chris Brown and Michael Ealy) want to build their father a house – in five years when he gets out. After a successful robbery the gang makes sure to give 10 percent – like the biblical tithe – to a list of favorite charities.
On the other side of the law, Matt Dillon plays a cop who's been at it too long and seen too much. He can't even mange to be a good weekend father without bringing his young daughter into the station to follow up a lead. He's broken too many rules and too many promises. His younger partner, played by Jay Hernandez, has a wonderful family but huge money worries: his son needs costly dialysis treatments and his wife just got laid off.
The young gang members want what a lot of young guys think they want, the GQ dream of stylish clothes, hot rides, sharp cribs. And of course beautiful women. They smoke cigars and drink the top shelf stuff with a studied air. But most everyone is doomed by irresistible temptation, revenge (Tip Harris is terrific as Ghost), and the ubiquitous (in films these days) Russian mob.
"Takers" is an interesting example of the way films are marketed – they certainly weren't expecting too many 60-something white folks in the audience. All the previews shown before the feature seemed targeted to a young, urban crowd. I don't think we 60-plus folks should let the marketers get away with this – we miss too much.
Two weeks ago I saw "Get Low," a real "actors' film," thoughtful and challenging. As I looked around at that audience I thought how the box office must have sold a lot of senior tickets that day. But it's not a film FOR geezers, though you could say it's mainly acted BY geezers.
Robert Duvall, Sissy Spacek, Bill Murray, Bill Cobbs and Gerald McRaney give such fine performances, not because they have lined faces and arthritic hands, but because they have years of experience and highly developed skills. They are ably assisted by a couple of talented young actors, Lucas Black and Lorie Beth Edgeman, along with a cute scene-steeling baby, and a mule.
So how old do you have to be to appreciate "Get Low"? Old enough to have had a dog who died, to have loved and lost, to have done something terrible that you deeply regret.
How young would you need to be to appreciate "Takers"? Young enough to remember your teenage fantasies, hopes and desires, to have loved and lost, and to have done something terrible that you deeply regret.
"Takers" is rated PG-13 for a great deal of shooting. "Get Low" is also rated PG-13, why I do not know.
Photo: http://www.sonypictures.com/movies/takers