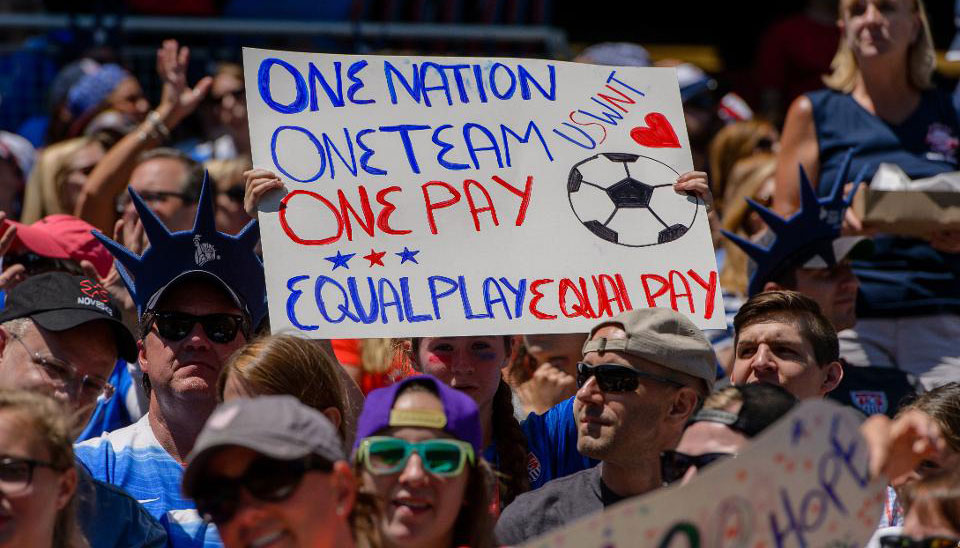 After three days, mediated talks between World Cup champion U.S. women's national soccer team and the U.S. Soccer Federation, aimed at settling their equal pay dispute, came to a crashing end.
The USWNT's gender discrimination and equal pay lawsuit will now likely head to jury trial following the breakdown in New York.
"We entered this week's mediation with representatives of USSF full of hope," said Molly Levinson, representing the players in this dispute. "Today we must conclude these meetings sorely disappointed in the federation's determination to perpetuate fundamentally discriminatory workplace conditions and behavior.
"It is clear that USSF, including its board of directors and president Carlos Cordeiro, fully intend to continue to compensate women players less than men. They will not succeed. We want all of our fans, sponsors, peers around the world, and women everywhere to know we are undaunted and will eagerly look forward to a jury trial."
USWNT players filed a 25-page lawsuit March 8, almost three months before their second consecutive World Cup win, addressing the issues of institutionalized gender and pay discrimination within the Federation.
"The USSF has utterly failed to promote gender equality," read the lawsuit. "It has stubbornly refused to treat its female employees who are members of the WNT (women's national team) equally to its male employees who are members of the MNT."
The Federation responded to the lawsuit, saying: players on the two teams are compensated under "fundamentally different pay structures for performing different work," and are paid under separate collective bargaining agreements (union contracts), imposing different rules, responsibilities, and obligations on the players."
Essentially claiming there is no basis for the complaints of illegal conduct by USWNT players.
The two sides agreed to mediate the dispute at the end of the Women's World Cup in France, where fans chanted "Equal Pay!" as the U.S. beat the Netherlands for the title.
The USSF said it had hoped to find a resolution, but accused the player representatives of "an aggressive and ultimately unproductive approach."
"We value our players and have continually shown that, by providing them with compensation and support that exceeds any other women's team in the world," the federation's statement said. "Despite inflammatory statements from their spokesperson, which are intended to paint our actions inaccurately and unfairly, we are undaunted in our efforts to continue discussions in good faith."
The USSF has hired two Washington lobbying firms, FBB Federal Relations, and Vann Ness Feldman, to help refute the player's claim their compensation is inferior to that of the men's squad.
And if the lawsuit does go before a jury, it's likely their decision may favor the players' who won gained a massive number of new fans for their passion and gumption on and off the field.