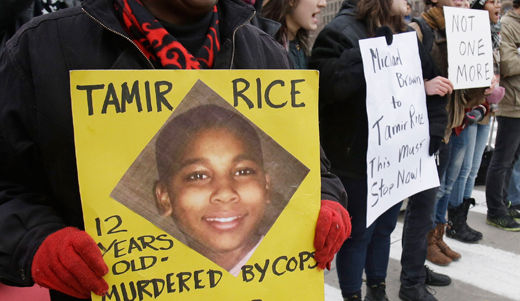 CLEVELAND — In an emotionally charged press conference on the steps of the Cleveland Justice Center Oct.16, the family of Tamir Rice, the 12-year-old Black child shot by police last November, and their attorneys denounced the nearly one-year delay in charging the officers responsible and demanded that Cuyahoga County Prosecutor Timothy McGinty either declare his intention to prosecute or step aside and appoint an independent prosecutor.
Tamir was shot last Nov. 22 while sitting alone in a picnic shelter. He had a toy gun in his pocket, but had been seen waving it earlier in the playground by someone who called 911.
"I've had many sleepless nights and days," said Samaria Rice, Tamir's mother, "and I am very disappointed in the way Timothy McGinty has handled this case. He should step down and allow an independent prosecutor carry this forward."
"This was a death that was unnecessary, senseless and preventable," said Jonathan Abady, one of the family's attorneys, as he blasted McGinty for his recent release of two reports by "experts" purporting to have found the police actions "justified" and reasonable."
"We were stunned and outraged to see these reports," Abady said.
Both experts – Lamar Sims, a Denver prosecutor, and Kimberly Crawford, a retired FBI agent, – have shown strong pro-police biases, he charged. In a letter to McGinty detailing these complaints, Abady noted that, prior to being hired by McGinty, Sims had given a television interview saying police would be justified in shooting to kill a child with a toy gun and Crawford had been discredited by the Justice Department for pro-police bias in previous cases. Neither one had interviewed the police involved in Tamir's shooting, the letter states, so "they resort to pure speculation about what they think the officers might have seen, said, or thought, including the central assumption that (officer Timothy) Loehman (who shot Tamir) believed 'Rice posed threat of serious physical harm or death."
"The case is headed in the same direction as in Ferguson and Staten Island," Abady said, referring to the failure of Grand Juries in those cities to indict police who killed unarmed Black men when prosecutors declined to advocate for charges.
"The Grand Jury process is being used as a cover," Abady said. "The prosecutors are abdicating their responsibility."
Former federal prosecutor Subodh Chandra, now also representing the Rice family, confirmed Abady's statement.
"Generally, in cases involving murder, rape or any other crime, he said, "prosecutors instruct the Grand Jury to return a true bill of indictment based on the evidence presented. If McGinty is agnostic about the evidence he would be treating these murder suspects differently from all others."
This is especially the case, he added, in light of the finding by Cleveland Municipal Judge Ronald Adrine in June that probable cause exists to charge Loehman with murder, involuntary manslaughter, reckless and negligent homicide and dereliction of duty. Adrine's ruling was based on a review of the widely seen video of the incident, but said his finding was only advisory. Adrine referred the matter to McGinty urging that he file appropriate charges and also said officer Frank Garmback who drove the squad car right up to Tamir should be charged with negligent homicide and dereliction of duty. The video shows Loehman jumping from the car before it even came to a stop and immediately shooting Tamir.
Chandra has said Loehman should also be charged with aggravated murder, which would apply when the victim is under 13.
McGinty has said he would not step aside and the Rice family attorneys said they may file a federal civil rights case with the Department of Justice. Last December, after a two year investigation, the Justice Department issued a scathing report that the Cleveland police department engages in a "pattern and practice" of using unreasonable and unnecessary force including at times unwarranted deadly force.
Photo: In this Nov. 25, 2014, file photo, demonstrators protest he police shooting of 12-year-old Tamir Rice. (AP Photo/Tony Dejak, File)