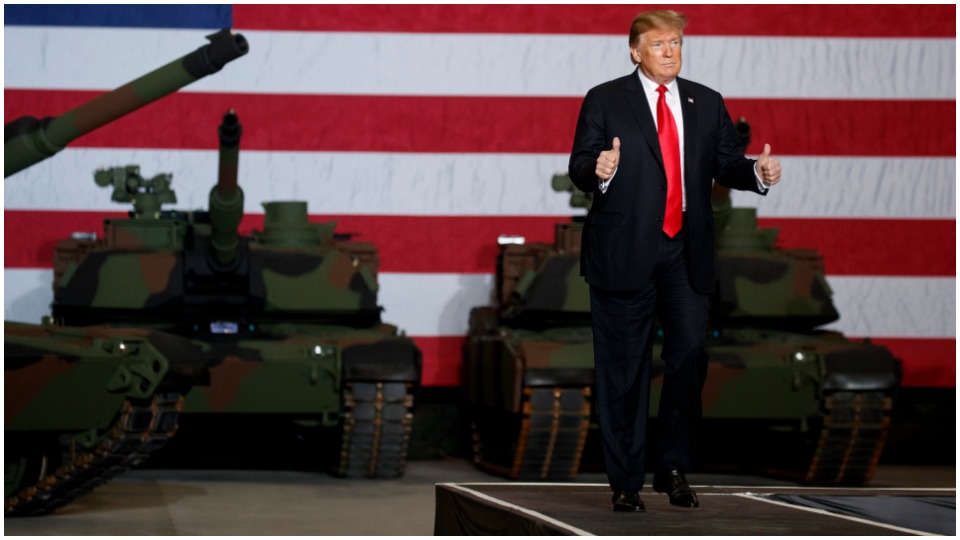 WASHINGTON—President Donald Trump's scheme to turn this year's D.C. celebration of Independence Day into a boast-fest featuring himself—complete with tanks on the mall and a military flyover—is drawing, pardon the expression, lots of flak.
Critics range from the progressive pro-worker VoteVets to Code Pink to the watchdog Citizens for Responsibility and Ethics in Washington (CREW). The D.C. City Council tweeted "Tanks, but no tanks," without mentioning that Trump's magnate-festooned inaugural committee has stiffed the city for $7 million in extra costs it had to shell out for those events in January 2017.
Trump announced at the end of June that tanks would be added to his prior plans to move the city's fireworks display away from the Washington Monument and towards the Potomac River. He'll also give a speech at the Lincoln Memorial—turning his back on President Lincoln's statue and putting his VIPs in bleachers between them—and add a flyover of military planes, including the Blue Angels and one of the Boeing jets used as Air Force One.
The fireworks are so high, security is so tight, and the flyover will be so low that the Metropolitan Washington Airports Authority shut down nearby National Airport, the area's busiest located just across the Potomac, starting at 6 pm July 3 and all through Independence Day. That affects tens of thousands of travelers, too.
Trump decided against rolling the tanks down Pennsylvania Avenue during the July 4 parade. Even he admitted doing so would have completely torn up the roadway, often called "America's Main Street," between the White House and the Capitol. He'll station them on the Mall, instead. He didn't say where.
But an internal DOD memo, published by the city council, opposes Trump's tanks, too.
"We have said it before, and we'll say it again: Tanks, but no tanks," the council tweeted. (P.S.: The @DeptofDefense agrees)."
The tweet included the image of a memo from the Defense Secretary's office with the line "include wheeled vehicles only, no tanks" highlighted.
Besides DOD and the city, opposition to Trump's planes and tanks will take—or has taken in tweets—many forms.
CodePink won a parade permit for a counter-demonstration just west of the Washington Monument. It'll feature, of course, the huge Baby Trump blimp, just like the one that wafted over crowds of millions of anti-Trump demonstrators in London.
"Babies need enormous amounts of attention and are unable to gauge the consequences of their behavior—just like Donald Trump," said CodePink co-founder Medea Benjamin. "This is why we are bringing the Baby Trump blimp to Trump's Fourth of July address to show our opposition to the pain and suffering caused by this administration, from family separation at the border to supplying weapons for the Saudi war in Yemen." Added co-director Ariel Gold: "The Baby Trump blimp is a fitting symbol of Trump's behavior: Erratic, dangerous, and prone to tantrums."
CREW predicted Trump would give a self-aggrandizing speech. It also said it would monitor him for violations of the Hatch Act and appropriations laws. Hatch prohibits federal workers at all levels below the president from pushing politics while on the government's dime. Appropriations laws cover presidential expenses and include bans on spending for political purposes while on official business.
Trump would break the law, CREW said, if he utters his campaign slogans, mentions either political party or candidates—himself or anyone else—for the Oval Office, talks about his approval rating or fundraising, or has campaign aides hand out materials and flyers to the crowd, among other violations.
"If Trump is careful and has the self-discipline to talk only about government policies, the event may amount to little more than a garish display of nationalism. Tacky? Probably. Illegal? Probably not. But when has anyone ever accused Trump of being predictable or sounding like a dry policy wonk? It seems far more likely that he'll talk about his re-election bid or fling schoolyard nicknames at his political rivals," CREW added.
VoteVets put up USS John McCain T-shirts for sale online and encouraged people to wear them. Trump repeatedly denounces the late GOP senator from Arizona for his decisive vote not to kill Obamacare, therefore preventing the GOP from kicking millions off of healthcare. Trump's hate is so high that when he recently spoke at a naval base, its commander moved the USS McCain so it wouldn't be in the background for Trump to see. That prompted VoteVets' anti-Trump T-shirts.
"We stopped his military parade"—the triumphal march Trump planned for last Veterans Day, which DOD vetoed. "This is his workaround," VoteVets said. "So when he looks out at the assembled masses, our job is to make sure he sees a sea of USS John S McCain shirts looking back at him. Let's fill the Mall with these shirts."
Individual tweeters also trashed Trump's tanks. One posted a political cartoon of a diapered Trump baby lying on the floor, pounding his fists and screaming, "I want a pawade! I want a pawade! I want a pawade!"
"The money being wasted could be used towards the care for our Vets, the Homeless, Child Care, Infrastructure to all 50 states…Stand up to this troll who lives for the center of attention," another wrote.
Several people suggested a boycott. But one person on Twitter had another take: "I hope protesters shut that whole thing down."