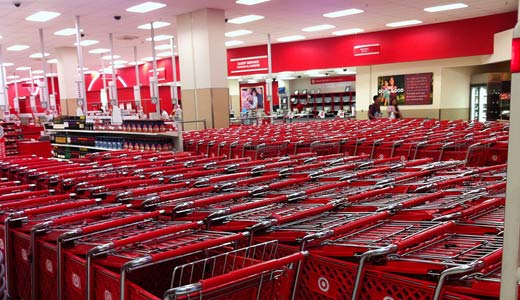 MINNEAPOLIS – "Sometimes I am told to work cleaning the store all night long," said Marco Tulio Perez, an employee of Carlson Building Maintenance who cleans a Twin Cities Target store. "When that happens, the doors are locked and we cannot get out unless we call someone to come and let us out. I don't know what would happen if there was a fire or some other emergency. That's really dangerous. What if I can't reach that person? I guess that would be the end of us!"
While Target locks workers in at night on Jan.17, during the day here, it locked workers out. The retail giant locked the doors to its corporate headquarters in downtown Minneapolis on January 17 rather than allow representatives of a workers' organization to hand-deliver a letter outlining concerns about health and safety issues for the workers who clean Target stores. A security guard in a red winter coat stood outside the locked doors to Target's corporate headquarters, keeping an eye on the dozens of workers who gathered in protest outside.
"For a long time, workers have been cleaning Target stores in conditions they find unsafe, unhealthy and even dangerous," said Veronica Mendez, an organizer for CTUL, the Centro de Trabjdores Unidos en la Lucha.
CTUL announced that two dozen employees of retail cleaning companies who work at cleaning Twin Cities metro Target stores had filed complaints that same day with the federal Occupational Safety and Health Administration (OSHA).
"I worked cleaning for Target for three years," said Honorio Hernandez. "In that time I never received any training for how to work safely with the chemicals…"
Mendez said about 150 workers employed by three different cleaning companies clean Twin Cities area Target stores.
CTUL has asked for meetings with Target for the past two years, Mendez said. "They refuse to meet with us, saying they aren't the direct employer."
The OSHA complaints filed by workers include Target and the cleaning companies, Mendez said. In addition to advocating for safe working conditions, CTUL also has been calling for improved wages for the workers cleaning retail stores.
Steve Share is editor of The Minneapolis Labor Review which, like the Peoples World, belongs to the International Labor Communications Association. Photo: Wayan Vota // CC 2.0