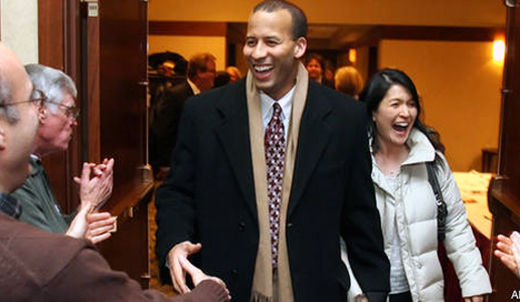 Illinois is an election battleground with important races up and down the ballot. The fight has only begun as voters become aware of just how reactionary some of the Republican candidates are.
There are four important Congressional races – three of which are being defended by incumbent Democrats, plus one open seat – and the governor's office.
And of course the biggest prize of all, President Barack Obama's former U.S. Senate seat. Republicans, big business and ultra right outfits are pouring in millions to try to win.
Democrats have the distinct possibility of picking up the open seat in the 10th Congressional District being vacated by Rep. Mark Kirk, R-Ill., who is running for the Senate against Democrat state Treasurer Alexi Giannoulias.
The 10th CD race pits former marketing consultant Democrat Dan Seals against Republican Bob Dold. The most recent poll has Seals up 49% to 36%.
Kirk narrowly won reelection five times, including twice against Seals, by posing as a moderate in an increasingly diverse and progressive trending district. Once in office Kirk voted reliably with his Republican caucus.
However, Kirk's district went 58% for President Obama in 2008.
Dold, owner of a family pest control company, is much further to the right of Kirk. But seeking election in a swing district, Dold is carefully trying to cover his tracks while also inviting extremist support. He has the solid backing of the U.S. Chamber of Commerce, Americans for Prosperity (of the billionaire Koch Brothers) Phyllis Schlafly's Eagle Forum and anti-choice Illinois Right to Life.
Dold claims he's pro choice, but when asked if Roe vs. Wade should be overturned, he responds "I don't think it's realistic at this time." Despite his protestations to the contrary, Planned Parenthood says there is only one "pro-choice candidate" in the race and that's Dan Seals.
Dold appeared at a tea party fundraiser in March and confided "I'm more conservative than I let on." Dold said the "Tea party has a great voice out there," because it is "talking about liberty and the Constitution."
But the tea party doesn't go over well in large parts of the district because of its well known anti-Semitism and racism. There is a large Jewish population in the district and growing numbers of Latinos and Asians.
In contrast, Seals himself is of mixed race background. He is building a diverse grassroots coalition that embraces labor, Asian Americans, Latinos, Jewish voters, environmentalists and pro-choice organizations and activists.
Dold, like many other Republican candidates has tried to fudge his position on privatizing Social Security. Dold told the Chicago Tribune in a candidate questionnaire he agrees with privatization of Social Security, and embraces the same backward plan championed by President Bush and defeated soundly in 2006.
Dold has even written warmly of the "Roadmap for America," (national sept. 2010 Republicans offer) the document written by extremist Rep. Paul Ryan, R-Wisc., who calls for privatization of Social Security and Medicare. (A Facebook post encouraging people to read the "Roadmap" was mysteriously deleted after it got some attention.)
In sharp contrast to Dold's backward proposals, Seals says that Social Security privatization would actually "add trillions of dollars to the debt." Seals further states: "I support protecting Social Security and I'm happy to have the endorsement of a committee looking to protect and preserve Social Security and Medicare, and I'll continue to work to make sure this is a program that's solvent for years to come."
As for the current budget debate, both Seals and Dold support the extension of the tax cuts for all income earners. Dold supports a strict cap on federal spending and the elimination of vital "entitlement programs."
Seals's position mirrors that of Rep. Melissa Bean, D-Ill., who is running in a nearby district that also has a larger population of high income earners and independent voters. Bean's occasional voting with "Blue Dog" Democrats, depending on the issue, is most likely related to pressure from those well-to-do high earners in her district.
So the battle is on.
Dan Seals Democratic candidate for the 10th congressional race and his wife Mia are greeted by supporters. (AP Photo/Steve Lundy – Daily Herald)