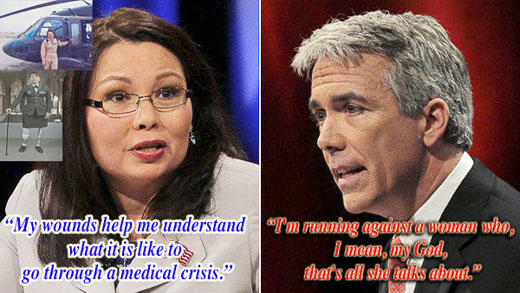 ELGIN, Ill. – Right-wing groups are pouring more than $1 million to support the reelection campaign of Rep. Joe Walsh, R-Ill. The out-of-state super-PACs are in a desperate last minute attempt to save the congressional seat of a tea party favorite.
Walsh is fighting for his political life against Democratic candidate Tammy Duckworth, the Iraq War veteran who lost both legs when the helicopter she was piloting was shot down in combat. Duckworth also worked as assistant secretary in the Department of Veterans Affairs.
The victor will represent the redrawn 8th Congressional District in the suburbs west of Chicago. A new Public Policy Polling poll shows Duckworth up by 14 percent in one of the most closely watched congressional races.
The Now or Never PAC, based in Kansas City, Mo., gave $810,000 to Walsh. The PAC favors tea party candidates, giving $450,000 this past summer to former Missouri State Treasurer Sarah Steelman in her losing bid for the Republican nomination for the U.S. Senate. The financial support came after former Alaska Governor Sarah Palin endorsed her.
Another $100,000 came in to Walsh from the tea party-affiliated Freedom Works PAC, and $100,000 has already been spent by the New Prosperity Foundation, funded by Sam Fox of Swift Boat Veterans fame.
Walsh is seen as one of the most vulnerable of Republican incumbents, and for good reason. He is viewed as personally unstable, and has been videoed screaming at constituents who disagree with him.
His extremist views and his blatant racism and sexism have alarmed wide sections of his constituency, a largely working-class and increasingly racially diverse population.
Walsh drew national attention when he said, dripping with racism, the tea party political movement will "pat" President Barack Obama "on the head" and say, "son, son, son, Mr. President, you were never ready to be president, now go home and work for somebody and find out how the real world works."
In August, Walsh went on an anti-Islam tirade, saying Muslims are infiltrating Chicago suburbs and "trying to kill Americans every week," alleging they are a "real threat" in the congressional district.
Walsh also said he reminds high school students another 9/11 is inevitable and will occur in the immediate future.
"Such indiscriminate vilification is not unrelated to the rise in hate crimes and acts of vandalism we are seeing today. When elected officials, trusted by many, indicate that the enemy could be any Muslim living in your neighborhood, it gives rise to xenophobic vigilantism where fearful citizens target other Americans for simply looking different," said Ahmed Rehab, executive director of the Council on American-Islamic Relations.
Rabbi Brent Rosen, the spiritual leader of the Jewish Reconstructionist Congregation in Evanston, joined Rehab and other religious leaders in denouncing Walsh.
"For a public servant to utter words such as these for political gain is frankly the height of cynicism and irresponsibility. There is no place for this kind of hatred, intolerance, divisive rhetoric or Islamaphobia in our community," Rosen said.
Duckworth, who was born in Thailand, blasted Walsh for his racism and said he had shown why he "wasn't fit to hold office."
Walsh has been widely criticized for sexist remarks directed at Duckworth and Sandra Fluke, the Georgetown law student who rose to national prominence when she was prevented from speaking to an all male panel of Republican lawmakers in support of health insurance plans covering birth control.
Labor, immigrant rights and women's groups have targeted this as a top race and are going all out to support Duckworth.
The race is one of five battleground congressional races in Illinois whose outcome is seen as decisive to Democrats regaining the majority in the U.S. House of Representatives. The other races are in the:
13th CD where single payer advocate Democrat Dr. David Gill opposes Republican Rodney Davis in an open seat;
17th CD where Democratic challenger Cheri Bustos opposes Republican incumbent Rep. Bobby Shilling;
11th CD where former Democratic Rep. Bill Foster opposes Republican incumbent Rep. Judy Biggert;
10th CD where Brad Schneider opposes another Republican incumbent Rep. Bob Dold.
Photo: In addition to the other outrageous comments, Joe Walsh also slammed Tammy Duckworth for supposedly constantly talking about her war injuries. "Now I'm running against a woman who, my God, that's all she talks about. Our true heroes, it's the last thing in the world they talk about," he said. (Southern Breeze/CC)