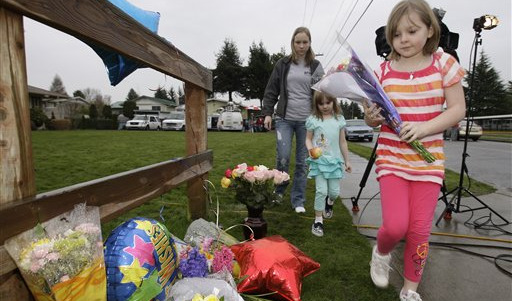 TACOMA, Wash. – The people of this city are in a state of shock and grief at the death of Jennifer Paulson, 30, a beloved special education teacher who died from multiple gunshot wounds fired by a deranged stalker as she arrived at the school where she taught, the morning of Friday, Feb. 26.
A steady stream of mourners came to lay flowers at a makeshift memorial on the lawn of the church across the street from Birney Elementary School where Paulson taught fourth grade.
Standing near the flowers, teddy bears and handwritten notes, Paulson's mother, Nancy Heisler, told the Tacoma News Tribune her daughter was an "angel" who devoted her life to serving children.
Paulson's brother, Mark, said his sister "had an impact on the community" and the mountain of heartfelt messages "show that a lot of people loved her … She will not be forgotten."
Mary Morford, who taught elementary school for 30 years at a public school in nearby Federal Way, told the People's World, "This tragedy hasn't fully sunk in. We face the death of teachers from natural causes like cancer. That's hard enough. But to have a young woman in the prime of life, a superb teacher, loved by everyone, shot down, it's a terrible crime."
The alleged gunman was Jed Waits of Ellensburg, Wash., who became infatuated with Paulson when they worked together in a college cafeteria years ago. Against her wishes, he telephoned her repeatedly and sent flowers and cards. Finally in September 2008, she obtained a protective court order barring Waits from coming near her home or place of employment. A week before she was murdered, he was arrested on charges of violating the court order. He was released next day on $10,000 bail.
"This could have been prevented," Morford said. "There are too many of these guys let out of prison. They knew he was dangerous. Yes, the jails are crowded but that is no reason to release someone so dangerous."
Waits was killed in a shootout with sheriff's deputies 20 minutes after Paulson died."
Questions swirl on how Waits, who had received a "less than honorable" discharge from the Washington National Guard in April 2009 after returning from duty in the Persian Gulf, could obtain the handgun used in the murder.
"It's so easy. Anyone can get a gun these days," Morford said. The right to bear arms "needs to be monitored," she said, to keep firearms out of the hands of criminally insane people.
Paulson's death came just days after a gunman opened fire wounding two students outside Deer Creek Middle School in Littleton, Colo., not far from Columbine High School, scene of the deadly massacre of April 20, 1999.
Middle school teacher David Benke heard the shots, raced to the scene and tackled the gunman. Another teacher, Norm Hanne, helped pin the gunman to the ground, and the assistant principal, Becky Brown, grabbed the rifle – quick thinking that prevented repeat of the Columbine tragedy in which 17 high school students died.
Two Chicago-based organizations, the Freedom States Alliance and States United to Prevent Gun Violence (SUPGV), merged Feb. 23 to fight the reactionary influence of the "gun lobby" spearheaded by the National Rifle Association.
In their joint statement, the newly merged groups pointed out that guns kill over 30,000 people year in the U.S. and another 80,000 suffer gunshot wounds.
Sally Slovenski, SUPGV executive director, said, "Despite the tragic and ongoing epidemic of gun violence in this country, policymakers remain unwilling to take any meaningful action to address this urgent pubic safety issue."
Merger of the two anti-gun-violence organizations, she added, will mean more sharing of resources for projects such as a successful tour through Wisconsin by Wisconsin Anti-Violence Effort (WAVE) in which 450 shirts were displayed, one for each of the victims of gun violence in Wisconsin last year.
Photo: Tierra Tompkins, 9, a student at Birney Elementary School, brings flowers to a memorial to slain teacher Jennifer Paulson. (AP/Ted S. Warren)