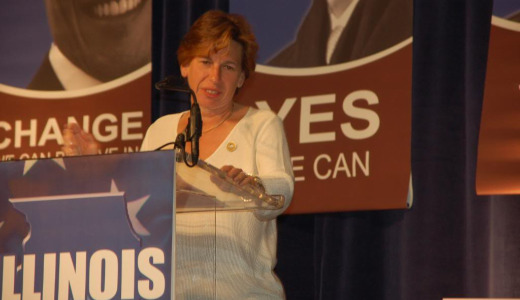 The head of the American Federation of Teachers has called for an entirely new teacher evaluation system.
By a 69-16 percent margin, teachers prefer evaluation combined with mentoring and support over absolute tenure protections, a recent union survey shows.
Randi Weingarten, president of the American Federation of Teachers, discussed the findings in a Jan. 12 speech in Washington during which she called for creation of a new system for evaluating teachers.
Teachers' unions have long been castigated for using tenure to hold onto incompetent teachers. Weingarten said the heart of the problem lies, not with incompetent teachers, but with a poor teacher evaluation system. She called for drastic improvements that would include state standards that define teacher competence, and mentoring and support to help teachers succeed in educating children.
In a phone interview Weingarten said her union wants a program of mentoring and improving the skills of teachers who need the help, and she said it supports the idea of easing out of the profession teachers who don't have either the ability or the desire to improve demonstrated poor performance.
Most teacher evaluation today is flawed, she said, because it is too closely linked to scores students receive on standardized tests.
Weingarten, who taught history in New York City's high schools, said a new evaluation system "must be constructed as a joint effort of all stakeholders in the schools, including the teachers." Teacher evaluation, she said, "must have the purpose of helping students succeed, and must be accompanied by support, aid and mentoring teachers to help them achieve that goal."
Weingarten's public stance on the issue comes as the "No Child Left Behind Law," initiated during the Bush administration, comes up for renewal. It is stalled in Congress. That law emphasizes the role of standardized testing as the key factor in evaluation of almost all aspects of the public school system. NCLB requires that test scores be used as the final determinant in issuing a failing score to an entire school, even against evidence that the school, as a whole, is improving. The current law also requires that test scores be used as a final determinant in firing individual teachers.
The 1.4 million-member AFT and the 3-million-member National Education Association, the nation's two major teachers' unions, say the result is "teaching to the test," which is harmful to real learning and gives short shrift to all subjects other than math and English.
"The public education system, which teaches over 90 percent of our children, still operates on an Industrial Age model and does not prepare students for the 21st century economy," Weingarten said. "And No Child Left Behind has made it worse, creating the pedagogical equivalent of a factory, reducing learning to a conveyor belt of rote prep sessions and multiple choice tests."
In the latest issue of American Educator, the magazine published by the AFT, President Obama's education secretary, Arne Duncan, agrees. "Teacher effectiveness cannot be assessed solely on test scores," he wrote. "Instead, teacher effectiveness should be evaluated based on multiple measures, provided that academic growth over the course of a year is a significant factor."
PAI contributed to this article.
Photo: PW/Teresa Albano