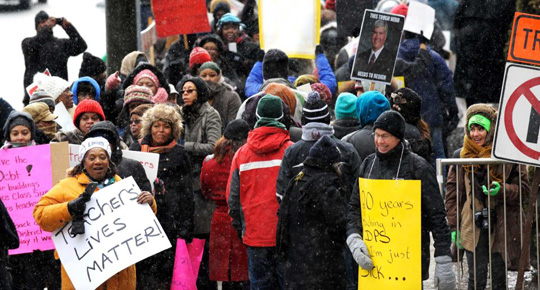 Nearly all Detroit Public Schools (DPS) are closed Wednesday, as teacher sickouts which began last week continue. Teachers are calling in sick to draw attention to the deplorable conditions in their schools and to force Gov. Rick Snyder and the Republican-controlled state government to take emergency action.
Their concerns include overcrowded classes, dilapidated buildings, safety hazards including mold and vermin, a lack of basic classroom supplies such as textbooks and computers and low pay.
Today's sickouts are timed to coincide with a visit to Detroit by President Obama who is here to appear at the North American International Auto Show. Teachers held a morning news conference at a local union hall before rallying outside Cobo Hall, site of the auto show in hopes of drawing the President's attention to their plight. A grassroots group called Detroit Teachers Fight Back has claimed credit for organizing the sickouts though teachers at individual buildings have voted on participating.
While the sick-outs are not sanctioned by their local union, the Detroit Federation of Teachers (DFT), there is obviously widespread support for the tactic on the part of rank-and-file teachers who are using social networking to advance their cause and coordinate their activities. Teacher strikes are illegal in Michigan and teachers and their local unions are subject to heavy fines and dismissal.
The leadership of the DFT has been supportive of teachers' desperate efforts to call attention to the conditions in their schools. At a news conference last Monday, Interim DFT President Ivy Bailey said, "We refuse to stand by while teachers, school support staff and students are exposed to conditions that one might expect in a third world country, not the United States of America."
The union has called for public hearings to air the plight of city schools and held a general membership meeting last Thursday to consider next steps. American Federation of Teachers President Randi Weingarten was present at the meeting and addressed the teachers.
While large urban, predominately minority school districts across the country are under siege, none is more at risk than Detroit's. The percentage of children living in households below the poverty level is among the highest in the country. The district's scores on national assessments of student achievement in math and reading are the lowest nationwide. Enrollment has dropped by two-thirds in the last fifteen years.
The district has an outstanding debt of nearly $3.5 billion. Forty percent of current state per-pupil funding is being used to pay off debt at the expense of students and classrooms, forcing the district to continue to borrow to meet operating costs. Teachers and other district employees have made extensive salary and benefit concessions. It's estimated that without an infusion of funds from the state, the district will run out of money by the beginning of April, close down, and be forced to declare bankruptcy.
A host of factors have contributed to the crisis that now exists. Decades of plant closings, white flight, and predatory real estate and mortgage lending practices form the historical backdrop for the district's (and the city's) decline. More recently, there has been a concerted effort on the part of Gov. Snyder, the state legislature and business interests to usurp democratic control by the DPS Board of Education, systematically dismantle the district and replace it with a motley patchwork of state funded, privately operated, for-profit charter and state-run schools.
Emergency managers, appointed by the governor and vested with total control over district operations at the expense of the elected school board have run the district since 2009. In that time, under four different emergency managers, DPS has lost nearly half its enrollment and closed more than half its schools. It has endured serious declines in math and reading scores and run up new deficits in excess of $700 million.
Ironically, the current DPS Emergency Manager, Darnell Earley, was Flint's emergency manager when the decision was made to switch from the Detroit water system to Flint River water, a decision linked to lead contamination in residents' households. Both cases illustrate the dire consequences of the state assuming the powers of democratically elected local governing bodies accountable to the communities they serve.
In every instance where the governor has declared a financial emergency and appointed an emergency manager it has been in a predominately African-American city or school district like Detroit or Flint. These are communities that have borne the brunt of the downsizing of the auto industry and the consequences of racist real estate and lending practices which have destroyed their tax base. Rather than directing additional resources to them to help compensate, the state's response has been to deprive them of their right to govern themselves, slash state revenue sharing and impose other austerity measures which have deepened the crises they face.
More than half of school-age children in Detroit attend charter schools in the city or inner-ring suburbs. The increase in charter school enrollment mirrors the decline in that of DPS. They have drawn students and state per-pupil revenue away from DPS faster than it can reduce its costs.
Michigan has substantially more state-funded, for-profit charter schools than any other state. There are no state standards for charter school operators and they operate with little or no state oversight. In fact, the regulation of charter schools in Michigan is among the weakest in the nation. They spend more on administration and less in the classroom than traditional districts. Not surprisingly, state and national assessments indicate that students in charter schools do not, on average, perform any better on standardized tests than those in traditional public schools.
The state lifted the cap on the number of charter schools in 2012 and incentivized charter school authorizers for granting charters. The result is a massive oversupply of schools in the city and fierce competition between DPS and charter schools for a shrinking number of students. Precious tax dollars are squandered on marketing. Considering student outcomes, it's clear that monies spent to fund and promote charter schools would be better spent to improve traditional public schools.
Yet another cause of the dire financial situation of DPS and many other Michigan school districts are the nearly $2 billion in corporate tax cuts under Gov. Rick Snyder. While Michigan businesses depend on public schools to prepare students for the world of work, they aren't shouldering their share of the burden for funding our schools. Restoration of these cuts would enable the state to provide emergency assistance to DPS, Flint and other communities and school districts.
Last March, a coalition of community, labor, business and religious leaders, the "Coalition for the Future of Detroit Schoolchildren," issued a report recommending comprehensive changes to improve schools in Detroit. American Federation of Teachers Michigan President David Hecker served as co-chair of the Coalition. Among its recommendations are the following:
Governance of Detroit Public Schools should be returned to an elected school board.
Charter authorizers and charter school boards should improve transparency, focus more on quality, and better coordinate all charter schools.
The state should assume DPS debt.
A new nonpartisan entity, the Detroit Education Commission, should be created act as gatekeeper for opening, closing, and siting all new schools in Detroit. It would hold all schools to the same high academic standards.
Establish advisory School Leadership Teams including parents, staff and students.
Establish a plan to transition back to DPS the 15 Education Achievement Authority schools run by the state.
Create shared systems of data, enrollment, and neighborhood transportation.
Indications are that the actions taken by Detroit teachers have caught the attention of state and local officials. Last Tuesday, Detroit Mayor Mike Duggan toured a number of schools and promised that the city would inspect every school in the district for health, safety and building code violations. He called on the governor and state legislature to act on a plan that would provide $700 million in funding for DPS over 10 years. NAACP President Wendell Anthony blasted Snyder and the state legislature for their inaction on the growing crisis in DPS.
Republican legislators, for their part, finally introduced bills that, while falling far short of the coalition's recommendations, at least provide a context for struggle over the key issues going forward which include:
Restoration of governance by an elected school board.
State assumption of responsibility for DPS debt.
Enhanced state and local oversight of charter schools.
Adequate state funding for DPS going forward.
Delegation of responsibility for holding all city schools to the same high standards.
Given Republicans' lock on state government, their abysmal record since assuming control of DPS, their advocacy for unregulated for-profit charter school operators, and their unrelenting efforts to slash business taxes at the expense of schools and local governments, finding solutions to DPS' problems will continue to be challenging. Only broad, unified, and militant action inspired by the teachers' courageous example can force Lansing to address the needs of Detroit's schoolchildren. Meanwhile, despite the heroic efforts of teachers, support staff and parents, nearly 50,000 DPS students are being denied their right to the quality education they deserve and are entitled.
Photo: Demonstration in Detroit related to the teacher "sickouts," drawing attention to the plight of these workers and the deplorable conditions in schools. | Todd McInturf/AP