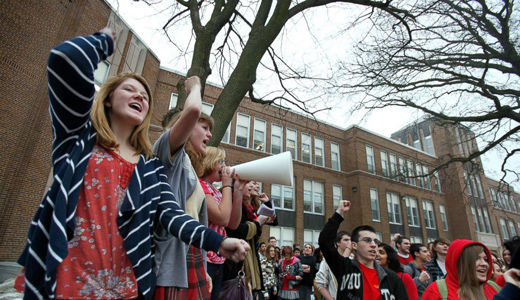 (AP) – Middle school art teacher Cynthia Bliss laced up her sneakers, grabbed a jacket and spent most of a recent Saturday asking strangers to help her oust Republican Gov. Scott Walker from office.
"We're teachers in the area and this election is very important to us," Bliss told one voter on the front steps of a house.
"You don't even have to talk," the older woman at the door replied. "We're the choir you're preaching to."
Bliss, who teaches in Fort Atkinson, wrote down the answer and marched back to the sidewalk, where autumn leaves crunched underfoot. For her – and hundreds of other Wisconsin teachers – booting Walker from the Capitol has been a priority.
"If Scott Walker wins re-election, he will keep his current policies and put them on steroids," Bliss said as she walked to the next house. "That's not acceptable to me."
It's a scene playing out across the country, as fed-up teachers are working to oust Republican governors.
Walker is the chief target, but Michigan Gov. Rick Snyder, Florida Gov. Rick Scott, and Pennsylvania Gov. Tom Corbett face similar, educator-led campaigns against them. Those first-term Republicans all took steps to stabilize state budgets with dramatic shifts in how many tax dollars go to schools and teachers.
Now, the teachers want to stop them in their tracks.
The 1.6 million-member American Federation of Teachers is spending $20 million on this year's elections – a record for it. The 3 million-member National Education Association has sent almost $8 million to political allies such as the Democratic Governors Association.
Walker defends his moves, saying they saved taxpayers $3 billion and allowed school districts, city and county governments to hire – and fire – employees without worrying about union contracts or benefits. Walker won praise from administrators; Milwaukee's public schools slashed more than $1 billion off its long-term pension obligations.
"It's about empowering people to do what they were elected to do," Walker said. "Instead of worrying about grievances, they can focus on curriculum."
It isn't swaying the teachers. Like most residents in this highly polarized state, few lack for an opinion of Walker.
"If Scott Walker wins another term, he will rule with a machete," said Kelly Sullivan, a high school teacher in Monona Grove.
Sullivan's frustration with Walker's policies moved the 39-year-old mother of three from a ho-hum voter to one of the first people to sign up to volunteer.
"He's not interested in us," Sullivan said. "We're just pawns in his plans to get to Washington, D.C."
Walker's presidential ambitions drive much of national unions' interest in Wisconsin. He became a national figure when he rolled back workers' collective bargaining rights and balanced his state's budget with deep cuts, including to schools. Other governors took notice and started down a similar path.
"He's an icon for the right," said Marty Horning, a 61-year-old retired Milwaukee teacher who led a voter-registration drive during recent parent-teacher conferences. "They're going to do whatever it takes to help his career."
Spending on the Wisconsin governor's race now tops $18 million, according to an analysis from the nonpartisan Center for Public Integrity. Spending on ads slightly favors Walker in his race against Democratic nominee Mary Burke, a former Trek Bicycle executive and a school board member in Madison.
That's why teachers are mobilizing, hoping to persuade voters to support Burke.
Photo: On Feb. 17 2011, Appleton West High School students protest in support of their teachers in Appleton, Wis. Fed-up teachers in Wisconsin and across the country are working to oust first-term Republican governors that took dramatic steps to stabilize state budgets and enacted policies that angered educators. Sharon Cekada/AP & The Post-Crescent