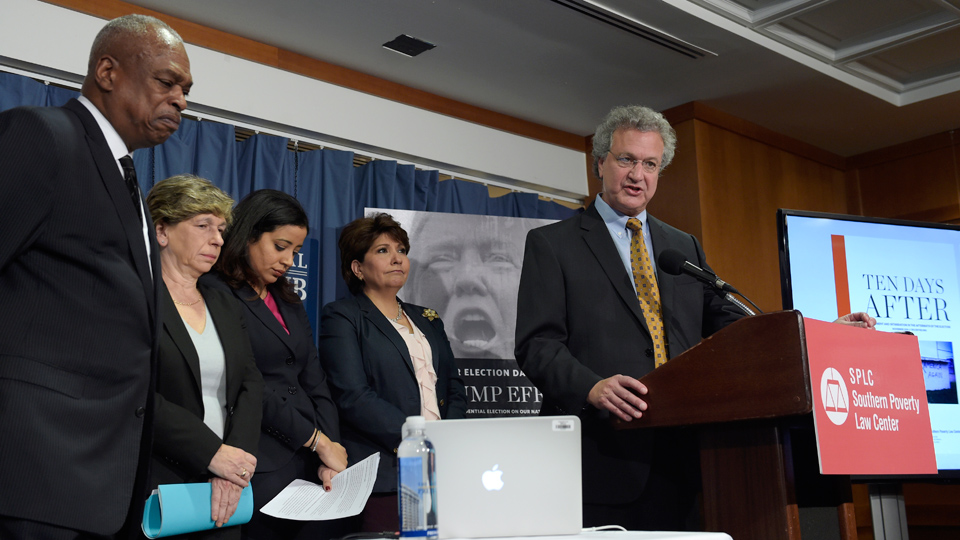 Alarmed by the spike in hate-related incidents in the wake of Donald Trump's Electoral College victory on Nov. 8, a coalition of civil rights groups and educators called on the president-elect to clearly and publicly denounce racism and all forms of bigotry and hate. At a Nov. 29 media conference, the Southern Poverty Law Center said it documented 867 bias-related incidents in the 10 days following Election Day.
Anti-immigrant bias topped the SPLC list of hate-related harassment. Latinos, Asians and Africans made up the largest number of targets, regardless of immigration status or citizenship. Anti-Black and anti-Semitic incidents ranked nos. 2 and 3. There were also many anti-Muslim incidents.
"Mr. Trump claims he's surprised his election has unleashed a barrage of hate across the country," said SPLC President Richard Cohen. "But he shouldn't be. It's the predictable result of the campaign he waged. Rather than feign surprise, Mr. Trump should take responsibility for what's occurring."
The SPLC released two reports, one on the 867 bias-related incidents and the other detailing the findings of a survey of 10,000 teachers since the election. According to SPLC, 90 percent reported that the school climate has been negatively affected, and 80 percent described heightened anxiety and concern among minority students worried about the impact of the election on their families.
Cohen said teachers described an increase in the use of slurs and derogatory language, along with disturbing incidents involving swastikas, Nazi salutes and Confederate flags.
Randi Weingarten, president of the American Federation of Teachers, told the media conference, "A president-elect has to create a climate that keeps all Americans safe." Schools and universities were the most common places for incidents to happen. Most often the incidents were through graffiti and verbal harassment, according to SPLC's information.
At an AFT-sponsored town hall phone conference on Nov. 22, Weingarten told participants the union would "do everything in our power to stop any kind of action against our immigrant families, our Muslim families, our Latino families and especially our undocumented students." In addition to resources already developed for teachers, professors and educational staff, the AFT released a six-point action plan for support of children and their families.
Among the 867 incidents in the report, "Ten Days After," were multiple reports of black children being told to ride in the back of school buses; the words "Trump Nation" and "Whites Only" being painted on a church with a large immigrant population; and a gay man being pulled from his car and beaten by an assailant who said the "president says we can kill all you faggots now."
In the teacher survey report, "After the Election, the Trump Effect," more than 2,500 respondents said they knew of fights, threats, assaults and other incidents that could be traced directly to election rhetoric.
Since the election, approximately 675,000 people have signed SPLC petitions calling on Trump to distance himself from white nationalists and other extremists and to dump Stephen Bannon as his chief strategist and counselor.
In an interview on "60 Minutes," Trump — when told about some of the harassment — said if it was his supporters for them to "stop it." In an interview with the New York Times, Trump denounced the white supremacist movement. But he needs to do more, the groups said.
"This polarized and divisive election has left its mark on all of us, but most tragically on our children," said Janet Murguía, president of the Latino advocacy group National Council of La Raza, to the media conference. "We have heard countless stories of harassment, intimidation and bullying of Latino and other students in schools around this country. This cannot stand."